In spring, London's chalk grassland habitats come to life with throngs of insects, flowers and other wildlife.
Meadows and species-rich grasslands can support a huge range of wildlife including wildflowers, fungi, bees, flies, beetles, spiders, moths, butterflies, reptiles, amphibians, small mammals, bats and birds. They are particularly important for pollinators who rely on flowers for their food source.
A haven for our pollinators
In London chalk grassland can be found mainly on the North Downs. A flora and fauna rich habitat supporting up to 40 species per meter squared, where rare and beautiful butterflies can be enjoyed in the capital.  
The weathering of chalk and other limestone base geology, forms well-drained, nutrient poor soils. A sunny climate and our relationship to traditionally managing land with grazing sheep, keeps turf short and open, allowing lime loving plants and invertebrates to flourish. There are many rare and scarce species associated with the habitat such as the small blue butterfly and roman snail. Scrubby grassland margins of dogwood and guelder rose help to create a mosaic of habitat and supports other species not found out on the open grassland, such as great green bush cricket.  
Spring butterflies
A sure sign that spring is on its way is the emergence of overwintering butterflies in search of early pollen. Some butterfly species over-winter as eggs, caterpillars or chrysalises during the cold winter months, whilst others hibernate until the following spring.
The first butterflies of the year include the brimstone, peacock, small tortoiseshell, red admiral and comma. Also look out for non-overwintering butterflies such as the orange-tip.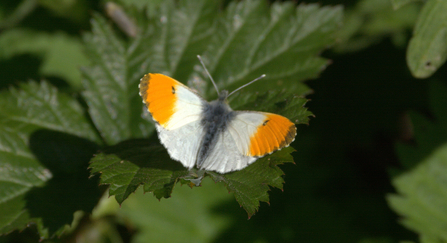 These pretty little butterflies are easy to spot as the males' wings have bright orange tips – giving them their name! They are a common sight during spring and can be found in lots of places including meadows, woodland and hedges. 
Did you know?
London Wildlife Trust's project Brilliant Butterflies is creating new wildlife havens in the southern fringes of Croydon and Bromley, providing refuges for pollinators and beautiful, tranquil pockets of chalk meadows. Working with local people we've been restoring chalk grassland and creating new homes for butterflies and insects across nature reserves, road verges, housing estates, and parks. We've also been using ground-breaking environmental DNA technology to survey find out more about this wildlife in order to secure its future conservation.  
Activities and spotter sheets
Discover spring near you
Read more about Spring in the City