Woodberry bird highlights: February 2021
Chris Farthing gives his latest update on recent bird highlights at Woodberry Wetlands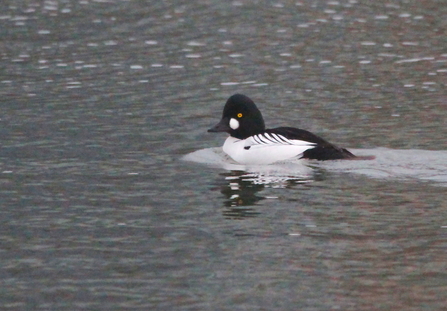 February 2021 finally saw some of the extreme weather which tends to bring interesting birds here. The first half of the month was wet, cold and windy, with some snowy days, before the temperature rose to normal levels mid-month.
The first highlight of the month was on the 2nd when a male Goldeneye (above) was found. It stayed all day before departing overnight. It was the first of this species since December 2019, with the previous record being from 2011. The scarcity here can be explained by the depth of the water, as this diving duck is more commonly found on significantly deeper water bodies. 
For the first half of the month a single shelduck was seen almost every day, but by the end of the month a pair (below) were present. They have been seen mating and there is a chance that they could breed here this year, which would be a first for the species.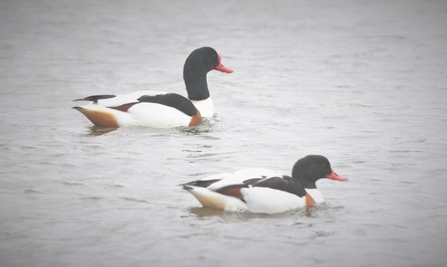 Other highlights from wildfowl were the first red-crested pochards of the year, and the flock of teal being around ten birds all month.
There were a few spells of low water levels through the month and this meant that we had a few good wader sightings. A dunlin was seen on the 9th and 10th, this wader may be the most common UK wader around the coast and river estuaries but they are still an unusual sight inland. The jack snipe (below) which was found on the last day of 2020 was still seen on-and-off through February, though it never showed particularly well. Common snipe were plentiful with a high count of 16 birds being recorded on the 6th.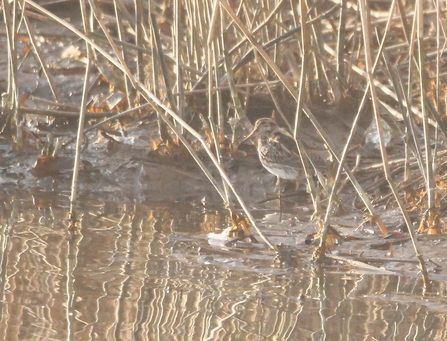 The first yellow-legged gull of the year was seen on both the 24th and 25th. Kingfishers were seen sporadically, usually along the New River but occasionally on the reservoir. Chiffchaffs were present all month and were singing by the end of the month, but blackcaps were much more difficult with only a couple of sightings. Reed bunting (below) sightings increased through the month with a pair sometimes being seen together.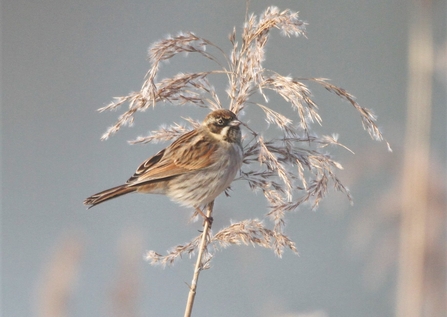 Flyover sightings included a flock of six lapwing on the 13th, and meadow pipit, skylark, jackdaw and stock dove were also recorded.
The total number of bird species seen here in February 2021 was 67. This impressive total shows the importance of periods of cold weather in winter. Over the last five years the February total has tended to be 60 or below except this year and in 2019 (the 'beast from the east' year) when 65 species were recorded.
[Photos by Chris Farthing]