Frequently asked questions
Here are answers to some of our most frequently asked questions. If your query is not covered below, please email enquiries@wildlondon.org.uk.
To find out more about our conservation, supporter and privacy policies click here. 
Where's the best place to see wildlife in London?

The Trust manages a fantastic range of 37 nature reserves spread across different parts of London. Outside of our reserves, we also recommend visiting:
Can you help me identify a plant/animal?

We are sadly unable to come out to your home so if possible please send in a photograph and description via email, or visit our species explorer page.
I've found an injured animal, what should I do?

Unfortunately the Trust is unable to take injured animals or offer anything other than general advice about animal care and welfare. Below is a list of wildlife hospitals in London and surrounding areas. Alternatively, the RSPCA has a 24-hour emergency injured animal line to report an animal in distress: 0300 1234 999.
I've found a dead animal, what should I do?
How do I cut back a bush or tree without harming wildlife?

Cutting and pruning should always take place between September and February, outside of the main breeding period. Nesting birds are fully protected by law and it can be a criminal offence if a nest is harmed.
What should I do if I suspect a wildlife crime has occurred?

Call the Metropolitan Police's Wildlife Crime Unit on 0207 230 8898 or email wildlife@met.police.uk. You can also report crime anonymously via Crimestoppers on 0800 555 111.
How can I deter pests without harming wildlife?

There are a variety of methods for deterring pests that do not involve harmful chemicals or setting traps:

Aphids: Plant chives, marigolds, mint, basil, or cilantro. Aluminum foil that reflects light on to the undersides of the leaves also scares aphids away;
Ants: Cinnamon sticks, coffee grinds, chili pepper, paprika, cloves, or dried peppermint leaves will repel ants. Lemon juice, mint and garlic cloves are also effective;
Cockroaches: Catnip deters them, as do bay leaves, cucumbers, and garlic;
Foxes: No easy answer but they are attracted to the smell of rubbish and compost bins;
Mice: Use mint plants, especially peppermint;
Moles: Sonic deterrents are available from garden centres and may be quite successful in some circumstances;
Mites: Plant alder, coriander, or dill, and use rye mulch and wheat mulch;
Slugs: Place mint, lemon balm, human hair, pine needles, cosmos, sage, or parsley in your garden;
Ticks and fleas: Put cedar chips in your garden or plant mint, rosemary, and lavender.
I need to carry out an ecological survey, can you help?
How can I help attract more wildlife to my garden?
Can I arrange a school trip to a nature reserve in London?
I want to film or take photos on one of your sites for commercial use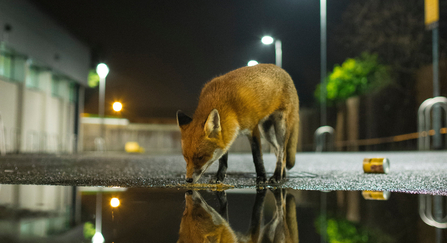 Wildlife crime and rescue
London Wildlife Trust is unable to deal with incidents of wildlife crime and wildlife rescue
Unfortunately the Trust does not have the resources to take in injured animals or offer anything other than general advice about animal care and welfare. Any incidents of crime should always be directed to the Metropolitan Police.
On this page you can find more information about which people and organisations should be contacted instead.
Wildlife Crime
In Britain the responsibility for enforcement of the laws protecting our wildlife rests with the police. In London the division of the Metropolitan Police responsible for the enforcement of wildlife laws and the implementation of initiatives to prevent wildlife crime is the Wildlife Crime Unit. The small team consists of specialist police and police staff who have been appointed for their expertise and experience in wildlife matters.
The London area is home to a wide range of wild species, many of which are protected in law. Wildlife crime includes damage to habitat, poaching, trapping, shooting, hare coursing, badger persecution, theft of wild plants, bat roost destruction, poisoning, and the illegal trade in endangered species in medicine and taxidermy.
Incidents of wildlife crime can be reported to the Wildlife Crime Unit on 020 7230 8898 or at wildlife@met.police.uk
You can also report crime anonymously to Crimestoppers on 0800 555 111.
Wildlife Rescue
At London Wildlife Trust we are not able to deal with wildlife rescue issues. We don't have any hospital facilities, and are unable to help any wildlife brought to us. If you find an ill or injured wild animal in London, we recommend visiting the Help Wildlife website.
If the injured animal needs urgent treatment, the following charities in and around London may be able to help: