Equality Diversity and Inclusion (EDI)
Our commitment to equality, diversity and inclusion
Central to London Wildlife Trust's mission is our belief that everyone has a right to access and benefit from our city's nature. 
Our vision of a London alive with nature, experienced and enjoyed by all, goes hand in hand with the creation of a diverse organisation that reflects the communities that we serve. The differences of thought, skills, ideas and experience brought by a diverse team of staff and volunteers will be invaluable in tackling the future challenges faced by nature in London.
We are committed to building a working environment in which all individuals are free from discrimination and in which opportunities are equal to all.
Where we are now
Today, women are relatively well represented in our team: 35 of 59 staff are female; 10 of 13 management positions are female (covering, 'Heads of', Managers and Advisors); 1 of 5 senior managers are female; 5 of 10 trustees are female. 
We have a good representation of volunteers with disabilities. We do, however, recognise that there is work to be done on improving representation in other areas, particularly with regards to ethnic and racial diversity across our volunteer base, staff body and board of trustees.
Despite growing awareness around EDI issues, the charity and environmental sectors have been slow to improve representation within its ranks. The Trust's senior management is reflective of gender imbalance at this level throughout the sector.
We have successfully delivered paid traineeships over the last six or so years, as a means to access employment in the sector.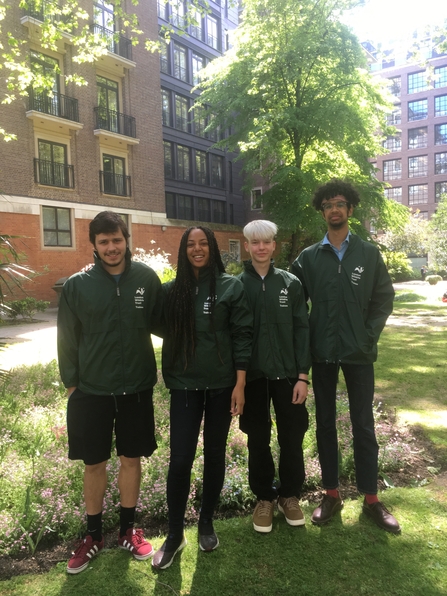 Our Keeping it Wild Traineeships offer a unique opportunity for young people aged between 16-25 to undertake a full-time, paid, three-month vocational traineeship based at one of our nature reserves. 
"The traineeship really changed my life. It stood out as unique and exciting; the chance to work with the highly-esteemed London Wildlife Trust, it was paid, unlike many other conservation opportunities, and it had an emphasis on young people from underrepresented backgrounds in the sector, which was a prerequisite I had never seen before and gave me hope. Not only did it equip me with more skills and knowledge than I knew I needed, it further exceeded my expectations and paved the way to me securing a job at the Trust as a Great North Wood project officer."
Chantelle Lindsay (second from left) Great North Wood Project Officer and Keeping it Wild alumni.
Creating change and next steps
Everyone at the Trust has a role to play in ensuring that individuals are valued, treated with dignity and respect and that discrimination does not occur. The inclusive working environment which already has a strong foundation in the values of our staff and volunteers will be implemented in relevant EDI policies, objectives and working practices. 
In our latest strategic business plan (2020-2030), the Trust has clearly defined ambitions to reflect the diversity of our city so that:
41% of the people we work with to identify as coming from Black, Asian or Ethnic Minority backgrounds (reflecting the range of ethnic backgrounds represented in London)  
2.6% to identify as a member of the LGBT+ community  
21% to identify as having a disability 
In order to prioritise this area going forward, we will increase engagement from groups under-represented in nature conservation through:
Interaction on our nature reserves
Training and volunteer programmes
Our communications, press and marketing
In late 2019, a new EDI Advisory Group was set up with representatives from all departments across the organisation to ensure best practices and processes are followed at all levels of the charity. The early stages of an approach will be followed by a detailed action plan.  
Some next steps will include, but not be limited to:
Regular meetings planned for EDI advisory group - to discuss ideas or initiatives for the organisation to consider; 
Research: interviews and audit of Trustees to understand the boards views and priorities for EDI;
Liaison and collaboration across the wider Wildlife Trusts movement to help compare London Wildlife Trust with others in the movement and where appropriate learn from any best practice; 
A review of our current EDI policy and HR processes, including recruitment, to ensure they are welcoming and inclusive for potential applicants from all backgrounds;
Regularly reviewing and learning from work and projects at Trust that are successfully engaging and involving individuals from diverse backgrounds. 
 
EDI and Covid-19
Now more than ever, as it is clear that parts of our society are disproportionately affected by the novel coronavirus (Covid-19) outbreak due to deeply entrenched inequalities. We are committed to ensuring EDI remains a key organisational priority and taking the necessary steps to address how these issues will impact on our staff, volunteers and the audiences that we hope to engage with.
We support the campaign group, CharitySoWhite, in their call to ring-fence relief packages for Black, Asian and minority ethnic (BAME) led groups whose services are more in demand than ever as they respond to the current crisis. 
More information
To find out more about how you can support BAME-led organisations, we've included a list of relevant UK organisations below to which we will continue to add.
StopWatch
The Monitoring Group
The Black Curriculum
UFFC
Kids of Colour
Black Muslim Forum
BLAM
London Wildlife Trust are keen to help promote BAME-led environmental organisations. If you would like to contact us about this, please get in touch by emailing marketing@wildlondon.org.uk