Make wildlife your business
How your business can support our work
We believe that that by working together, we can achieve more to help transform the capital's natural environment for people and wildlife to enjoy.
We want to build mutually rewarding partnerships with companies that share our values and desire to make a difference for London's wildlife and people.
Our corporate partners can also access wild team-building days through our Wild Workdays programme.
Your organisation can work with us through: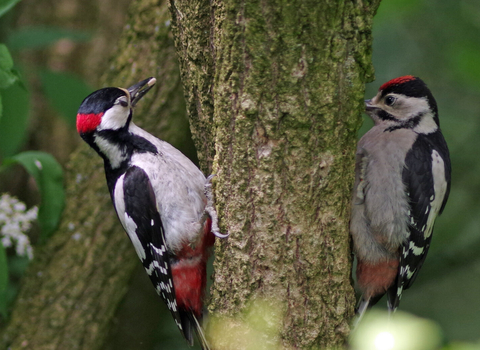 Bespoke partnerships
We want to build mutually rewarding partnerships with companies who share our values and who want to make a difference for London's wildlife and people. 
Learn more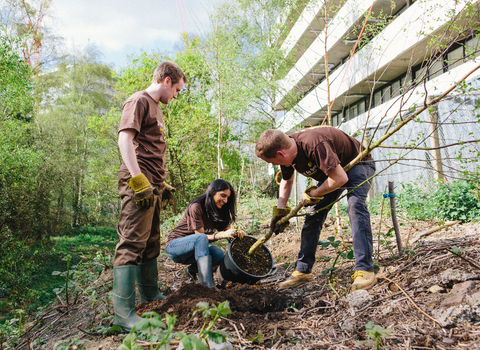 Investors in Wildlife
Your company can demonstrate its commitment to the environment by becoming an Investor in Wildlife with London Wildlife Trust for as little as £60 a month
Learn more
Our Corporate Partnerships Policy
Thank you to all our corporate supporters that have contributed time, effort and funding to advance our vision for a London alive with nature.
Mace
Mace is a long-term partner of London Wildlife Trust and over the last six years more than 2,000 Mace employees have given their time to help nature conservation across London.
Mace has supported us through substantial volunteer support, funding, and donations of materials, technical knowledge and access to specialist contractors to complete important conservation work, and open up green spaces to local communities.
Most recently, in 2018, Mace efforts have been focused on Walthamstow Wetlands, where volunteers and specialist subcontractors are giving 370 days-worth of time to help create a new outdoor classroom, bird hide, floating nesting rafts for migratory birds, and habitat improvements for local wildlife. In 2017 Mace supported the preparation of our Huckerby's Meadows nature reserve, allowing us to open it to the public three years earlier than planned.
Emma Tuckey, our Nature Reserve Manager at Walthamstow Wetlands, says: "Mace have built a new bird hide here at Walthamstow Wetlands, managed by Mace project managers from concept to completion, enabling us to extend our engagement opportunities and widen our support network for the wildlife at this internationally important nature reserve – which is absolutely brilliant."
Isabel McAllister, Director of Sustainability at Mace, says: "Our long-term partnership with London Wildlife Trust has been rewarding and exciting for our staff. We recognise the need to open up the city's green spaces to communities - by restoring and improving wildlife habitat we are helping to create more wild areas that will bring education and wellbeing benefits to Londoners."
DLA Piper
Global law firm DLA Piper has been supporting London Wildlife Trust since 2012, with their experts providing pro bono legal support and advice on partnership contracts, major funding agreements, contracts with suppliers, real estate and employment among other areas.
DLA Piper employees have spent an amazing 1,440 hours supporting us since the start of our partnership – support which would otherwise have cost London Wildlife Trust £368,546.50. 
Stas Kuzmierkiewicz, DLA Piper UK Pro Bono Manager, says: "DLA Piper is extremely proud to support The London Wildlife Trust. The provision of pro bono legal services allows the Trust to direct more of its funding to its extremely important programmatic work, and we look forward to continuing our collaboration." 
Richard Grindle, London Wildlife Trust Chief Operating Officer, says: "DLA Piper's support has been invaluable to the Trust. The high-quality pro bono advice we have received from DLA Piper's excellent lawyers through our partnership has saved significant time and money which means we have been able to invest more resources into direct delivery."
The Green Well
Massage therapy company The Green Well has been supporting London Wildlife Trust since 2013, donating 5% of their net profits towards our work to protect London's wild spaces. The Green Well's wonderful long-term, unrestricted support means that we can spend these donations wherever they are most needed, and that people visiting their Therapy Rooms have the chance to find out about London Wildlife Trust and the nature reserves that are near them to enjoy.
Anna Glowacka, Co-Founder of The Green Well, says: "We're really proud of supporting the London Wildlife Trust. It's so important to contribute to the preservation and development of London's wild spaces, not only for the wildlife that lives within them but for the mental and physical well-being of each and every Londoner."
Rosie Oldham, London Wildlife Trust's Head of Fundraising says: "The Green Well's values are a perfect fit with London Wildlife Trust's – we both believe in helping people to rejuvenate and improve their wellbeing. We really appreciate The Green Well's long-term support which means we can do more to enable people to access and enjoy nature."
FactSet 
Since the start of our partnership, FactSet staff have been supporting London Wildlife Trust both practically and by using their skills.
Employee volunteers have taken part in a series of 'wild workshops' at London Wildlife Trust nature reserves designed to enrich habitat and create biodiversity data. Volunteer days have included Hedgehog House-Building workshops, Hedgehog Detective days, and Dragonfly Detective days.
FactSet is a global company that creates flexible, open data and software solutions for investment professionals, providing instant access to financial data and analytics that investors use to make crucial decisions. The company is providing a team of data experts to work with us pro bono to develop a conservation data management system. A simple and efficient data management system will help us to see how our activities are creating an impact, share our progress with various stakeholders, and help us make decisions on what to do in the future. Having expert help from FactSet will be invaluable to achieve this.
Hannah Zucker, CSR manager for FactSet EMEA & APA says "We are delighted to partner with London Wildlife Trust to help them to maintain a healthy natural environment within London and provide opportunities for people in our community to enjoy these important spaces. By collaborating with LWT and sharing not just our time, but also our people's talent, we can make a positive impact everyone can enjoy."
 
Mattinson Partnership, specialist recruiters for the built and natural environment, have been supporting London Wildlife Trust for the past two years on our traineeship projects. Their expert recruiters run multiple interactive workshops, providing our conservation trainees with invaluable career advice and insights into the environmental sector to prepare them for employment. Most recently, Mattinson Partnership provided their services for young people taking part in our Keeping it Wild programme, which engages young people from backgrounds currently under-represented in nature conservation. Environmental & Sustainability Recruitment Consultants, Freya and Gareth, educated students on how to write a strong CV, provided useful interview tips and taught the skills needed to help them land a job.
The Mattinson team also participate in Wild Workdays which provide practical, fun opportunities to make an important contribution to urban nature conservation in London.
Emily Morshuis, Keeping it Wild Project Manager says, "It was fantastic to have Freya and Gareth provide work readiness and job application training for our Keeping it Wild trainees. The aim of the traineeship is to equip young people between the ages of 16-25 with a solid grounding of urban conservation skills to undertake a career in the environment sector. The training provided by Mattinson Partnership helped to outline the next steps for forging a career within the sector."
Director, David Mattinson says "Our partnership with London Wildlife Trust is integral to our ethos and solidifies our desire to cultivate an environment of sustainable growth. All our partnerships act to service of the environment, not at its expense – this is why our partnership with London Wildlife Trust works so well!"