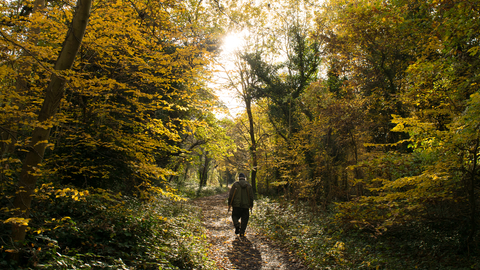 Shinrin-Yoku: Experience the Benefits of Forest-bathing
Location:
Online event,
Online event
Book
Discover the amazing health benefits of the Japanese practice Shinrin-Yoku, or forest bathing, in this interactive wellbeing session.
About the event
This International Earth Day, join qualified Shinrin-Yoku practitioner Elena, to discover how practising forest bathing can deepen your connection with nature and encourage you to be present, mindful and still. You will be introduced to the research conducted in Japan by doctors and scientists who have been able to prove, with tangible evidence, how being in nature can really improve our body and mental health. We'll also explore how to bring the forest indoors to enjoy the benefits of forest bathing even when at home.
This interactive event is not one to miss!
This event will be delivered online via Zoom. Please contact us at greatnorthwood@wildlondon.org.uk if you need any help accessing Zoom or you if have any other questions.
This event is offered for free as part of London Wildlife Trust's Great North Wood project. Donations are welcomed and you can do so here.
Check out other events taking place as part of the Festival of the Great North Wood here.
Elena Iezzi, 25, is from Venice, Italy and now lives in London. She graduated in Language, Civilisation and the Science of Language from Ca' Foscari University in Venice. She fell in love with nature and the outdoors during her thirteen years as a Girl Scout in Italy, which sparked a curiosity in her to explore and study the benefits that being exposed to nature has on our body and mind. This is when she became familiar with the concept of Shinrin-Yoku and first began to experiment with it in the Alps in Italy. Her passion for the subject led her to study for a diploma in Shinrin-Yoku and she now practises it in the parks of London as part of her daily routine, so is keen to share this with others.
Booking
Price
Free but donations welcomed.
Suitable for
Adults