Keep London's skylarks singing
Your donation can help protect breeding skylarks and their nests. Will you help them today?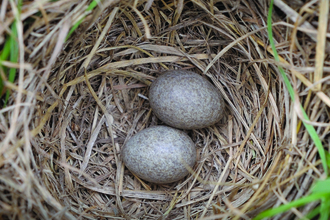 £16 could help purchase durable signage
to inform visitors to the meadows about the breeding skylarks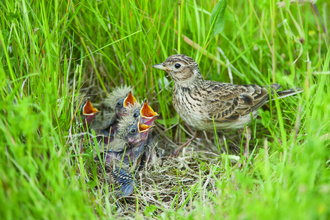 £32 could help purchase a roll of sustainable chestnut paling fencing
to protect the skylarks while they are breeding
£75 could help pay for a day of surveying the skylark population with volunteers
followed by a guided walk for interested public and visitors
We need the skylarks' song more than ever today
Right now, London's skylarks are on the brink of extinction. Yet in the current coronavirus pandemic, hearing their glorious cascading song will bring a vital comfort to many of us and our loved ones.
We will be carrying out this work later than we had initially planned, due to the impact of coronavirus on the way we work.
Wildlife will continue to need your help as much as ever once this period is over. The pandemic is also set to have a big financial impact on London Wildlife Trust, so we really do need your help now, before it's too late.
We need our songbirds more than ever today, so now's the time to help save them.
With your support, we can protect the few skylarks on sites where they're still breeding, and help re-establish successful populations. 
Please don't let the skylark's song become a thing of the past in London.
If you would prefer to support London Wildlife Trust with a regular donation you can become a member.
Your donation will be unrestricted, so that we can protect London's wildlife as cost-effectively as possible, wherever the need is greatest at the time. 
You can also donate:
By post - please download and complete our donation form and send a cheque made payable to London Wildlife Trust: London Wildlife Trust, Dean Bradley House, 52 Horseferry Road, London, SW1P 2AF. Please note that this is for the Skylark Appeal. Please note that there will be a delay in processing postal donations but they will be kept safe by Royal Mail in the meantime. 
If you aren't able to print our donation form please send a note with your cheque including your name and contact details and let us know if you would like to Gift Aid your donation, so we can send you a Gift Aid declaration form in the post. Unfortunately we cannot claim Gift Aid from your donation unless you have filled in a Gift Aid declaration form. 
You are welcome to donate anonymously if you wish.
Alternatively you can donate by phone - call 0207 803 4272 (Monday – Friday, 9.30am – 5.30pm).
Thank you