Woodberry bird highlights: November 2020
Chris Farthing gives his latest update on recent bird highlights at Woodberry Wetlands.
Although a few tail-end birds from autumn migration still pass over in November, the month here is one of the quieter of the year, unless there is any particularly cold weather. We had mild weather all month, so unusual sightings were few and far between. The major highlight was a woodcock, with presumably the same bird being seen in flight twice, on the 24th and 29th. This elusive woodland wading bird was last seen here in 2015.
Trying to find water rail (main picture above) and snipe (picture 1 below) accounts for a good proportion of birding effort here in the winter, and the variable water levels in the reservoir meant that this was easier at some times than others. Water rail were easiest to see when the water level was high, and they could be spotted running around in the flooded area of cleared reed-bed on the east side. Snipe were best seen during periods of low water levels, when they feed on 'the beach', an expansive area of mud which appears at the northern edge of the reservoir when the water level is low. A site high count of eight were seen feeding together there on the 9th. 
Although November can often be good for ducks, there was little of interest this time around, with no more than three shoveler being seen. Teal just about made it into double-figures, and the surplus of males amongst them meant there was plenty of displaying activity.
Kingfisher  sightings were fairly regular, although far from an everyday highlight, with birds occasionally being seen perched on reeds close to the boardwalk or at the water outlet.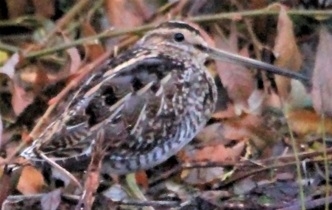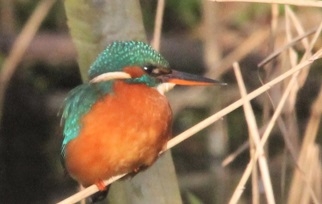 The regular yellow-legged gull which was seen all through October did visit on November 1st but wasn't seen again, although by way of compensation an argentatus sub-species herring gull (3) was extremely regular through November, being seen in the early morning on the gull pipes almost every day. Gulls are very much creatures-of-habit, and two colour-ringed black-headed gulls, 2PNK and 2KXP (4), were seen here just as they have been every winter since the site opened to the public in 2016. 2PNK breeds in southern Sweden, but there have been no recorded sightings of 2KXP any further away than Tring, Hertfordshire.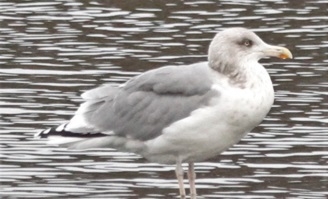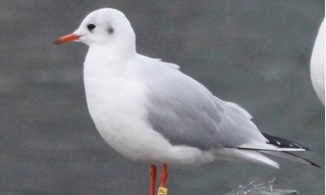 Amongst raptors, both peregrine and sparrowhawk (5) were as regular as at any time this year. One male sparrowhawk has a regular spot where it takes prey on an old blackbirds nest along the habitat path.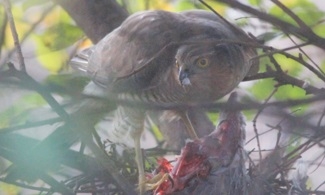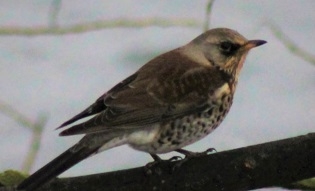 Migrating woodpigeon could still be seen passing over on good numbers at the start of the month, as well as lower numbers of fieldfare (6) and redwing. By the end of the month the latter two species could be seen perched in trees along the woodland trail. A few meadow pipit, lesser redpoll and siskin were also seen on migration early in the month.
The total number of bird species seen here in November was 61, a figure remarkably consistent with the 61, 60 and 60 of the previous three years!