Chris Farthing's Woodberry Wetlands bird highlights for March 2020
Chris Farthing takes us through his bird highlights of March 2020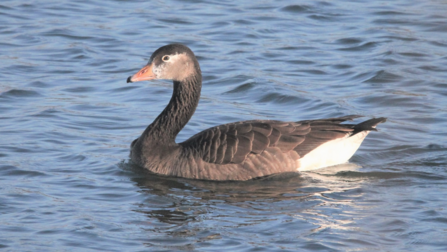 March is a month of great change here, with the last of the winter visitors heading off to their breeding territories, and summer visitors starting to trickle in. The start of the breeding season means there is always plenty of bird song, and around the edge of the reservoir and on the New River, wildfowl can be seen on nests. March usually sees the arrival of our first long-distance migrant, and this year as with most years, it was a sand martin (picture 1 below) which was first seen on the morning of the 18th, with possibly the same bird being seen again on the following two mornings. 
A single shelduck was seen most days at the start of the month but disappeared from the 14th. Shoveler (2) were seen in low numbers all month, but teal were only seen up to the 17th, after starting the month in numbers of around 6. The only new duck for 2020 was red-crested pochard (3). At least ten males are present in the local area, roosting on the island in Finsbury Park, but often touring various local water bodies through the day. There were several sightings here from mid-month. A hybrid Canada x greylag goose (main picture above) was an unusual visitor, seen on the 9th. This hybrid combination is fairly common at sites where both the individual species breed, but quite scarce here. At the end of March the reservoir pair of mute swans were still nest-building, but the New River pair already had eggs.

A long-overdue first little egret (4) of the year flew over on the 29th and another was seen two days later. Sightings of stock dove (5) have been very regular throughout March, with a few pairs believed to be nesting locally. Peregrines (6) have been seen frequently, with two birds seen displaying on the 15th.

Green woodpecker (7) is another species which must be breeding close-by, as they have been heard yaffling all month and have often been seen around the woodland trail. A female stonechat (8) on the 16th was the second sighting here of the year for this species, which seems to be having a good year all over London.
Reed buntings were active all month with a high count of five being seen on the 24th. By the end of the month less singing was heard, presumably after some of the birds paired up.
The total number of bird species seen here in March was 62, which equals the total from March 2019, but is down on the 68 from the previous two Marches.
[Photos by Chris Farthing]