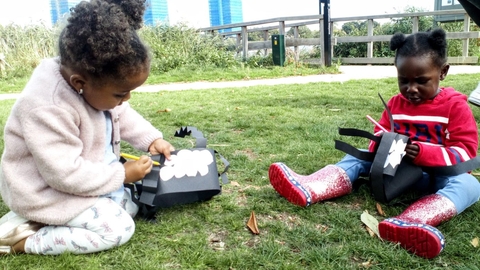 Nature Crafts (afternoon) at Crane Park Island
Location:
Ellerman Avenue,
Whitton,
TW2 6AA
Join us for a fun and creative 2 hour family learning workshop using nature as inspiration for making art! This workshop is for Richmond Borough residents only.
About the event
London Wildlife Trust is hosting a programme of family learning opportunities at Crane Park Island. These family learning opportunities are aimed at the Richmond community through funding from Richmond Borough Council. We are running 2-hour workshops aimed to introduce as many Richmond residents to nature as possible. Each person can only participate once in a workshop from December 2019-July 2020. 
These workshops are funded for people from lower income households and those receiving benefits. However, all are welcome, if you can make a donation, these are gratefully received. All profits from the events we run at Crane Park Island are invested into London Wildlife Trust's conservation work and the ongoing care of its nature reserves.
This workshop is Nature Crafts! During the two hours we will explore Crane Park Island, looking at the beauty in nature to give us inspiration to make wonderful wildlife themed crafts. Children will participate with their parents/guardians and learn together as a family.
Everyone should be dressed suitably for the weather and in clothes that may get messy. If you have wellies wear them but don't worry if you don't have them you can still join in all the activities. 
Meet at the Shot Tower in Crane Park, next to the entrance to Crane Park Island. Arrive 10 mins before the start to register and so you don't miss any of the workshop.
Workshops in this programme are:
Minibeast Magic will happen on the first Sunday of every month until end July 2020.
Nature Crafts will happen every Tuesday (one session in the morning one in the afternoon) in the school holidays until end July 2020.
Wildlife in Water will happen every Thursday morning in the school holidays until end July 2020.
Brilliant Bats will happen on 7th April 2020.
Booking is essential
Booking