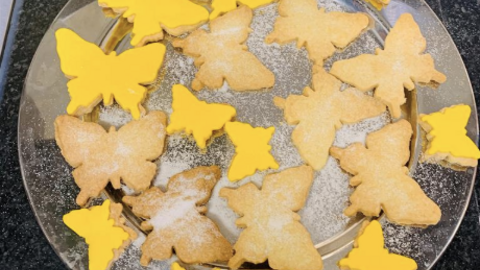 WILD WEDNESDAY Butterfly Bakes
Location:
Online event,
This event will be hosted online
Book
Bake butterfly biscuits with our Community Engagement Officer, Laura
About the event
Follow step-by-step to make these delicious, easy-to-make biscuits. They're perfect for enjoying on a cold winters day with a hot drink. Make them vegan by swapping butter for vegan spread! 
Ingredients (makes 10-12 biscuits) 
· 100g plain flour + extra for dusting 
· 30g icing sugar 
· 90g butter or vegan spread (softened) 
· ¼ tsp vanilla extract 
To decorate 
· 100g icing sugar 
· 1-2 tbsp water 
· 1-2 drops food colourings (optional) 
· Sweets/sprinkles (optional) 
Equipment 
· Mixing bowl 
· Sieve 
· Rolling pin 
· Butterfly biscuit cutters 
· Baking tray lined with greaseproof paper 
Method 
1. Preheat the oven to 160°C/325°F/gas mark 3. 
2. Sift the flour and icing sugar into a mixing bowl. 
3. Add the butter and vanilla and mix well with a fork. 
4. Use your hands to squeeze the mixture into a dough. 
5. Dust the surface with flour, place the dough on top and dust again. 
6. Roll to a thickness of approx. 0.5cm 
7. Cut your biscuits using biscuit cutters and place evenly onto baking tray. 
8. Bake for 12-15 minutes until slightly golden. 
9. Remove the trays from the oven and place tray on a cooling rack. 
10. For the icing, mix icing sugar with a little water and colouring. 
11. Once the biscuits are completely cool, spread icing over biscuits with a knife or spoon (and stick decorations on).
This workshop will be delivered online via Zoom. Please contact us at brilliantbutterflies@wildlondon.org.uk if you need any help accessing Zoom or you have any other questions.
The Brilliant Butterflies project is creating new wildlife havens in the southern fringes of Croydon and Bromley, providing refuges for pollinators and beautiful, tranquil pockets of chalk meadows. Brilliant Butterflies is a partnership between London Wildlife Trust, the Natural History Museum and Butterfly Conservation.
It is funded by a Dream Fund Award, thanks to players of the People's Postcode Lottery.
The project runs from 2019 to 2021.
To find out more about the project click here.
Booking
Price
FREE
Suitable for
Families, Children, Adults, Beginners