About The Great North Wood Project - Phase 1
As part of the Living Landscapes initiative, London Wildlife Trust was awarded a grant of nearly £700,000 from Heritage Lottery Fund to launch the Great North Wood project in June 2017. Over four years the Trust worked with volunteers, community groups, landowners, and local councils, in a collaborative project reviving and reimagining the Great North Wood as a home for nature and people – in a modern urban landscape.
 
The project raised awareness of this largely forgotten woodland, encouraging people to explore, enjoy and value the natural wealth on their doorsteps. With strong community involvement, it focussed on resident woodland species such as woodpeckers, purple hairstreak butterflies, stag beetles, oak and hornbeam trees; with surveying, guided walks, and family activities such as minibeast hunts and teddy bear picnics. Conservation work also enhanced ancient woodland areas and helped people discover them.
Further support for the project came from the Mayor of London, Veolia Environmental Trust, the Dulwich Estate, and Dulwich Society.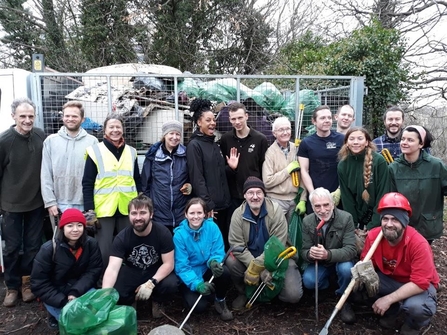 Project aims 2017-2021

Train 250 volunteers in practical woodland conservation;

Carry out habitat improvements to 13 woodland sites;

Deliver 975 metres of path improvements at eight woodland sites;

Train 250 volunteers in wildlife identification and monitoring techniques;

Monitor the five key woodland species; hornbeam, oak, purple hairstreak butterfly, stag beetle, woodpecker;

Help 208 people attain their John Muir Award;

Create new and improved interpretation materials for Great North Wood sites;

Deliver a community outreach programme for 5,060 people, including group visits, heritage skills workshops, and guided wildlife walks and talks;

Deliver regular outdoor learning sessions for primary school children and create a teaching resource pack to support independent visits;

Organise and host a woodland festival at a different site each year, plus an annual smartphone photography competition;

Host a family learning programme with drop-in activities including mini-beast hunts and woodland arts and crafts.
Great North Wood photo competition
Take a look at the winning images from the Great North Wood photo competitions 2019-2020