About The Great North Wood Project - Phase 2
London Wildlife Trust has been successful in securing funding for a new phase of the Great North Wood project from the Government's Green Recovery Challenge Fund. The Government's Green Recovery Challenge Fund was developed by Defra and its Arm's-Length Bodies. It is being delivered by The National Lottery Heritage Fund in partnership with Natural England, the Environment Agency and Forestry Commission. 
The Great North Wood is 5,422 ha area of South London that was first mapped in the 1600s as a mix of traditionally worked woodland and common land. This landscape, which now straddles the edge of five London administrative boundaries (Bromley, Croydon, Lewisham, Southwark and Lambeth), has been instrumental in the development of the city for the production of timber for shipbuilding and charcoal for fuel.
The Great North Wood is believed to get its name from the woodland that lay to the 'north' of the large ecclesiastical town of Croydon.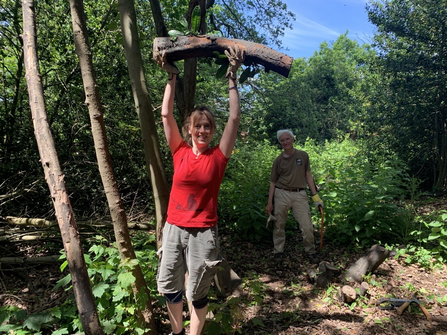 The new phase of the project will build on London Wildlife Trust's successful four-year Great North Wood partnership project, to conserve and restore remnant sites of heritage woodland for wildlife and connect people to this ancient landscape within south London. 
Project aims 2021-2023

Conserve and restore 94.5ha of habitats across 22 sites within the Great North Wood Living Landscape, a mix of ancient and secondary woodland interspersed with habitats including grassland, meadow, and ponds. Create 2.6ha of new habitat (within the above) including wood meadow and woodland copses. 
Improve habitat for species: oak, hornbeam, woodpecker, purple hairstreak butterfly, stag beetle; ancient woodland indicators; hedgehogs, a species on the red list.  
Connect people with nature through engaging 3,000 people in wildlife activities.  
Create two paid work placements (Full time, for 16 weeks) and a new assistant level role. 
The Great North Wood project is led by London Wildlife Trust and will work in partnership with Bromley Council, Croydon Council, Lambeth Council, Lewisham Council, Southwark Council, Lewisham Homes, Virgo Fidelis Trust, The Dulwich Estate, The Dulwich Society, and 'Friends' groups.  
The latest news, events and blogs from Great North Wood