Do you love London's wildlife and want to help ensure it flourishes in the future? Are you passionate about inspiring, creating opportunities for,  and working with young  people? We are looking for a talented and enthusiastic person to join our Keeping it Wild team to support the delivery of our exciting youth-engagement project in London.
Role: Full-time fixed term contract, 1st September 2020 until 31 March 2021     
Based at: Central Office, Dean Bradley House, 52, Horseferry Road, London SW1P 2AF with significant time spent other London Wildlife Trust nature reserves around London. We are open to exploring flexible working arrangements (including working from home, when not delivering activities on site) 
The purpose of this role is to support the delivery of the London Wildlife Trust's youth-engagement project, Keeping it Wild. The postholder will join a small but dynamic team delivering a range of exciting opportunities for young Londoner's to gain vital skills while discovering, conserving and sharing their experiences of the capital's wildlife and wild spaces. The project aims to inspire more young people to care about, and protect nature on their doorstep that often goes unnoticed, and find out how it is relevant to them. We also actively encourage young people to share their experiences through digital media and journalism with their peers and wider audiences, and create opportunities for young people to experience work within the nature conservation sector. London Wildlife Trust delivers Keeping it Wild alongside partners London Youth, Headliners (UK) and John Muir Trust, who bring a wealth of knowledge and expertise to the project.
Keeping it Wild is one of 12 National Lottery Heritage Funded Kick the Dust projects. You can read more about the project here.
We are looking for someone who: 
Enjoys being outdoors in all weather, is enthusiastic and hard-working;  
Has excellent communication, networking and facilitation skills with a range of partners and stakeholders;  
 

Is interested in London's wildlife and wild spaces;  
 

Has knowledge of London's young people and an understanding of the issues that they face;  
 

Is interested in delivering face-to-face and digital-based activities for young people focussed on urban nature conservation;   
 

Has exceptional organisational skills and ability to manage various tasks and project-related administration at the same time, and capable of managing time effectively;  
Is IT literate – including experience of working with the Microsoft Office suite;  
 

Has experience of working within a team.   
Does this sound like you? If so we'd love to hear from you!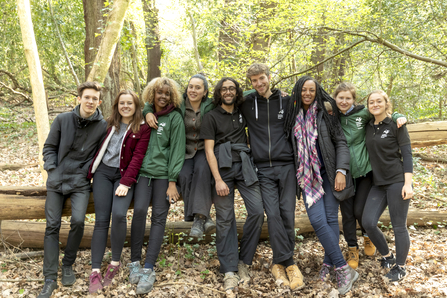 London Wildlife Trust is committed to being an equal opportunities employer. We believe that London's diversity is one of its greatest assets and we endeavour to ensure our staff body reflects this. We welcome applications from everyone regardless of age, gender, ethnicity, sexual orientation, faith or disability. Read about London Wildlife Trust's commitment to Equality, Diversity and Inclusion here: https://www.wildlondon.org.uk/equality-diversity-and-inclusion  
If you aren't sure if this role is for you and are cautious about putting yourself out there then why not have a chat with someone in the team first by contacting us on enquiries@wildlondon.org.uk or 020 7261 0447. Let us know if we can do anything to make the application or interview process more accessible. 
About London Wildlife Trust: London Wildlife Trust manages nature reserves across the capital that are exemplars of urban conservation land management and which greatly benefit the local communities that use these sites. The Trust delivers projects focusing on protecting priority habitats and wildlife species in London and works to influence policy makers to support this work.  The Trust engages London's diverse communities through access to our nature reserves, volunteering programmes and education and outreach work.  
An enhanced DBS Check is required for this role.   
To apply, please send a completed Candidate Details Form and Application Form to our recruitment team by email at  recruitment@wildlondon.org.uk   
 Closing date: Friday 24th July 2020 at 9am 
Interview date: Friday 31st July 2020* 
* Interview dates and locations are subject to change depending on developing government advice on the Coronavirus, with the possibility of holding interviews virtually. More information will be given to those invited to an interview at the time. Let us know if we can do anything to make the application or interview process more accessible. 
This role is funded by the DCMS Youth Accelerator Fund via National Lottery Heritage Fund.