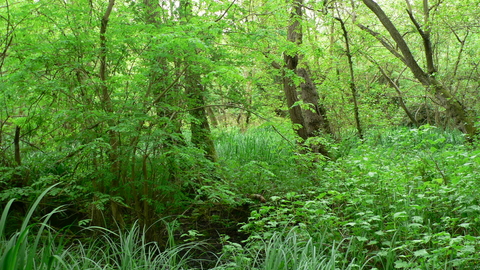 A designated Site of Special Scientific Interest (SSSI) in North Uxbridge, supporting some of the finest examples of wet woodland in London.
Know before you go
Grazing animals
There are grazing animals in the adjacent Frays Farm Meadows
Access
Walking access is via Grand Union Canal Towpath, Denham Country Park, Denham Quarry Trail or Uxbridge Golf Course, although the towpath is easiest. Over the lock gates the nearby stile gets you into Denham Lock Field, from where Fray Farm Meadows is accessible. At the northern end of the field a bridge over the river leads to the boardwalk into Denham Lock Wood. There is no access directly from the A40 road. The nearest station is Denham, a 25-minute walk from the canal lock via Denham Country Park.     
Parking is usually available at Uxbridge Golf Course and Denham Country Park but wheelchair access is not practicable because of slopes on the golf course track and the canal crossing. Denham Lock Wood has shallow steps and there is a stile at the Denham Lock's canal access. A boardwalk on the riverside of Denham Lock Wood and public footpath from the golf course to the canal are well surfaced. Elsewhere paths may be wet and rutted.
When to visit
Opening times
Open at all times
Best time to visit
April to October
About the reserve
Among the rivers, lakes and canals of the Colne Valley in west London is an area of rich habitat for birds, flowers and invertebrates. The gentle Frays River meanders through Denham Lock Wood, with its wonderful wet woodland and fen, and the meadows of adjacent Frays Farm to the south, providing a rare wildlife haven for some of London's most threatened species.   
History of Denham Lock Wood 
London Wildlife Trust began managing Denham Lock Wood in 1990 under an agreement with Hillingdon Council, after gaining recognition for its importance to wildlife as part of Frays Valley Local Nature Reserve. It has remained open and free to roam for many years.   
Status of Denham Lock Wood 
Site of Special Scientific Interest, part of a Site of Metropolitan Importance for Nature Conservation, Local Nature Reserve, Metropolitan Green Belt   
Volunteer with Denham Lock Wood's team
To find out about the next volunteering session contact Simon Hawkins on 07772 821 134 or email shawkins@wildlondon.org.uk.
Get involved at Denham Lock Wood    
 
Habitat
Environmental designation
Site of Special Scientific Interest (SSSI)