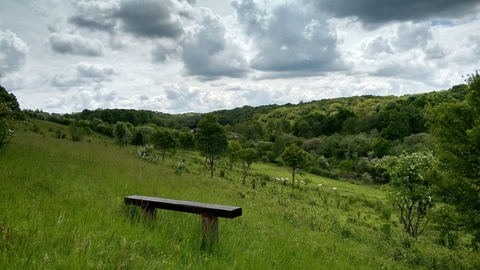 Hutchinson's Bank, Chapel Bank & Threecorner Grove
A large area of secluded chalk grassland and woodland in Croydon. Supporting many rare plants and insects, which has benefited from the return of traditional grazing.
Know before you go
Grazing animals
Cattle, sheep and ponies
Access
The entrance from North Downs Road footpath is a short walk from New Addington Tramlink stop. Follow the footpath to the left of the recycling centre, and turn left on to the woodland path. After a few minutes walking you'll see a metal kissing gate at the reserve entrance. Further along, there are kissing gates and steps into paddocks to reach other parts of the reserve. 
Footpaths are sometimes steep and stepped. Access to the cutting from Farleigh Dean Crescent is level and suitable for wheelchairs if the gates are unlocked by arrangement. There are occasional benches. The route from Threecorner Grove to Chapel Bank is across a narrow, winding road with busy traffic. Street parking is available on North Downs Road and nearby streets in New Addington.
When to visit
Opening times
Open at all times
Best time to visit
April to July
About the reserve
This dry chalk valley in New Addington is a butterfly spotter's paradise and a great place to find orchids, rare plants, and blankets of bluebells. Hutchinson's Bank is a steep grassland valley-side, while Chapel Bank features enchanting ancient woodland, scrub and rolling chalk grassland. Between them, Threecorner Grove is a spectacular stand of ancient woodland. 
History
Chalk grassland develops on shallow lime-rich chalky soils that are nutrient-poor and free-draining, and in London this internationally important habitat is predominantly found in the southern parts of the boroughs of Bromley, Croydon and Sutton.
This part of the North Downs was traditionally grazed by sheep until the 1950s, but changes occurred as new settlements such as New Addington and Forestdale developed. London Wildlife Trust began managing Chapel Bank in 1984 and Hutchinson's Bank in 1987. Grazing was re-introduced to Hutchinson's in 1995, and Chapel Bank in 2011, for the first time in half-a-century. Threecorner Grove was included into the reserves' management in 1997, as was the verge alongside Featherbed Lane north of Hutchinson's Bank.  
Management
Short turf is essential for species unable to compete with coarse grasses and scrub, grazing now helps manage this. Other species need the mosaic of taller grasses, scrub and woodland. Ongoing management of scrubby vegetation is a key aim, and we encourage the growth of specific food plants for butterflies.
Status
Site of Metropolitan Importance for Nature Conservation; Local Nature Reserve, Metropolitan Green Belt  
Get involved
Volunteer
Get involved with our Brilliant Butterflies project happening on these sites. Contact Anna from the team on brilliantbutterflies@wildlondon.org.uk for more information.
Contact us
Shaun Marriott or Anna Guerin
Wild cherries of Threecorner Grove
Threecorner Grove is a tiny pocket of ancient woodland, nestled between Hutchinson's Bank and Chapel Bank. Cherries are more familiar as small trees, usually found in parks, gardens or woodland edges, but the wild cherries of Threecorner Grove in Croydon stand over 23 metres high. In spring they make a magnificent sight, covered with bright white blossom. In summer their fruits are eagerly devoured by thrushes and woodpigeons.