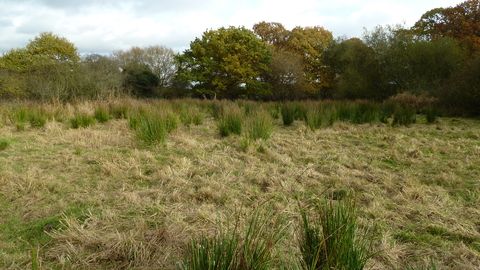 An eclectic array of wetland plants dominate this riverside site, providing an opportunity to explore marsh, meadow and woodland habitats, and enjoy countryside views.
Know before you go
Parking information
Parking available in surrounding streets
Grazing animals
Cattle, sheep
Access
Enter the site either from the north at Austin's Lane, or the south from the tunnel running underneath the A40 dual carriageway. The Austin's Lane entrance is a five-minute walk from Ickenham Station (Piccadilly and Metropolitan lines). The U10 bus service stops nearby on Glebe Avenue, while the U1 and U10 buses stop on High Road Ickenham, a 10-minute walk away. The U2 bus service stops on Granville Road, from where the footpath leads under the A40. The site can also be accessed from the Hillingdon Trail.
The main route through the site, Hillingdon Trail, is a rough gravel path that can get muddy and is undulating in places, but is usually suitable for wheelchair users and has been awarded a Seal of Approval by the London Walking Forum for its high standards. Street parking is available in Austin's Lane.
When to visit
Opening times
Open at all times
Best time to visit
April to August
About the reserve
This low-lying marsh is known for its range of plants and tall herbs, and the birds that these species attract. An oak and ash woodland is developing on the higher ground, containing hawthorn, blackthorn and elder, as well as young elm, with broad-buckler and male-ferns in the more shady places on the woodland floor.
The Yeading Brook flows from north to south through the reserve, alongside the Hillingdon Trail public footpath.   
Management of Ickenham Marsh
Conservation grazing has recently been reintroduced as a sustainable means of traditional land management. A volunteering team help with general site management including invasive species control along the Brook, while the Ickenham Marshes Partnership work to improve the surrounding countryside. 
Status of Ickenham Marsh
Part of a Site of Borough Importance for Nature Conservation, Metropolitan Green Belt  
Get involved at Ickenham Marsh   
To find out about volunteering at Ickenham Marsh contact Simon on shawkins@wildlondon.org.uk or 07772 821 134
Species