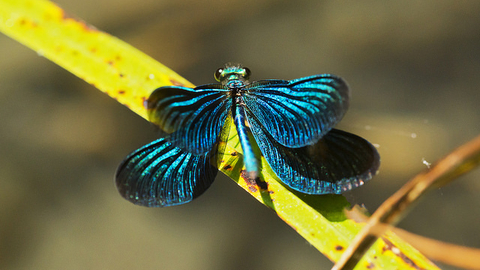 Where two arms of the River Wandle meet, an enticing nature reserve provides a fascinating variety of wildlife habitats in South London.
Know before you go
Access
The entrance is at the junction of Mill Lane/River Gardens and Strawberry Lane in Carshalton. Bus services 127 and 151 stop in nearby Nightingale Road, while the nearest railway station, Carshalton, is less than a 10-minute walk away.
A circular, wheelchair accessible footpath explores the main part of the reserve, but the island and ponds can only be accessed via a bridge that is approached by steps. Footpaths on the island itself are rough and can be muddy. Access to the reserve is via a gate that can be opened by wheelchair users with a RADAR key.
When to visit
Opening times
Open at all times
Best time to visit
April to August
About the reserve
Only part of Wilderness Island can genuinely be described as an island, but the reserve is dotted with ponds and is flanked on two sides by the Croydon and Carshalton arms of the River Wandle. Habitats here include wetland, wildflower meadow and woodland that supports mature horse chestnut, willow and oak.
Together it provides a valuable habitat for many species of birds and invertebrates. The best way of exploring Wilderness Island is by following the nature trail.  
History of Wilderness Island
The northern part of the reserve, the island, is where the owner of Shepley House made ponds in the 1700s to keep carp to supplement the household diet. The carp have long since gone but some of the ponds remain, and one now forms a long sedge bed. A succession of attempts to build housing here in the 20th Century were thwarted by local residents, until management was passed to the Trust in 1987 and it was designated as a Local Nature Reserve.  
Management of Wilderness Island
A group of local volunteers manage the ponds, meadow and woodlands, while improving the pathways for access, and running a programme of wildlife events attended by members of the public.   
Status of Wilderness Island
Part of a Site of Metropolitan Importance; Local Nature Reserve  
Volunteer with Wilderness Island's team
To find out about the next volunteering session call Edwin on 020 7261 0447 or email emalins@wildlondon.org.uk
Get involved at Wilderness Island  
Record species you've spotted at Wilderness Island 
Wilderness Island Nature Trail 
Environmental designation
Local Nature Reserve (LNR)