Protect London's ponds
Please support wildlife this winter
Our pond life is skating on thin ice – will you help it today?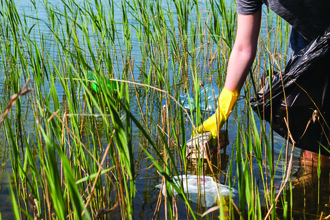 £15 could purchase 5 pairs of gauntlets
so that our volunteers can carry out their winter pond maintenance work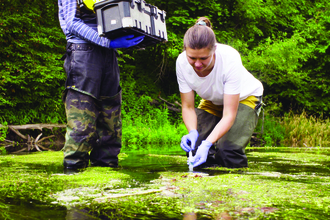 £48 could purchase a set of chest waders
to enable our staff and volunteers to tend to the deeper water areas and pond islands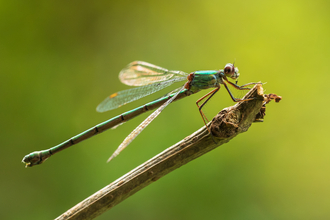 £60 could pay to repair decking and pond dipping platforms
for visitors and children to enjoy and learn about pond wildlife and how it needs our care
London's pond wildlife depends on you. Can you help us protect it with a winter clean-up?
Ponds provide food, water, and a breeding place for a huge range of species, from newts and frogs, to dragonflies and reptiles, as well as birds and small mammals, such as hedgehogs and bats.
Every year in London more ponds are lost than are created, which has a devastating impact on both wildlife and us. Our ponds are under threat from pollution, silting up, or from terrestrial vegetation which encroaches into the water and dries them out – and they depend on us to bring them up to scratch this winter.
We had to pause some of our work quickly in response to the ongoing pandemic this year. But as winter approaches, we have our work cut out. With your help, we can carry out the essential work that your local ponds need, making them ready for the coming spring's wildlife to flourish.
Although often sidelined in the news, it's impossible to overstate the importance of ponds and freshwater to our ecosystems and our very survival. They support a huge variety of pollinating insects, such as bees and hoverflies, which we depend upon to fertilise the fruit and crops that we eat. What's more, ponds are one of our most vital habitats for biodiversity, supporting at least 72 of our nationally rare species, from the scarce emerald damselfly to seed-eating birds like the turtle dove, whose populations are in deep trouble and who rely on accessible freshwater to wash down their dry food.
There's wildlife near you that's depending on your support. Please give your winter gift today.
If you would prefer to support London Wildlife Trust with a regular donation you can become a member.
Your donation will be unrestricted, so that we can protect London's wildlife as cost-effectively as possible, wherever the need is greatest at the time. 
You can also donate:
By post - please download and complete our donation form and send a cheque made payable to London Wildlife Trust: London Wildlife Trust, Dean Bradley House, 52 Horseferry Road, London, SW1P 2AF. Please note that this is for the Ponds Appeal. Please note that there will be a delay in processing postal donations but they will be kept safe by Royal Mail in the meantime. 
If you aren't able to print our donation form please send a note with your cheque including your name and contact details and let us know if you would like to Gift Aid your donation, so we can send you a Gift Aid declaration form in the post. Unfortunately we cannot claim Gift Aid from your donation unless you have filled in a Gift Aid declaration form. 
You are welcome to donate anonymously if you wish.
Alternatively you can donate by phone - call 0207 803 4272 (Monday – Friday, 9.30am – 5.30pm).
Thank you