Dedicate a Wildlife Plaque to a loved one
Dedicate a Wildlife Plaque to a loved one
A plaque is the perfect way to celebrate a birthday, wedding, new baby, anniversary, or to remember a loved one, whilst also supporting the future of our precious wild places. Simply choose your plaque from one of the options below, tell us about the reason for your dedication and make it special with your own message.
All plaques are designed in the shape of real species found at the reserve to celebrate the diversity of wildlife found in London. They are handmade and engraved to order and come in a variety of colours depending on the site.
As a thank you, we will send a dedication pack to you, by post or email. If you would like the dedication pack to be sent to someone else, just let us know.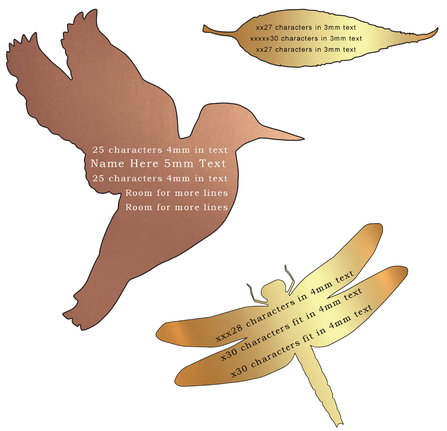 Mock up of the wildlife plaques.
Please note, there is a character limit for the message you can include on your chosen plaque:
Willow Leaf: 84 characters
Dragonfly: 88 Characters
Kingfisher: 97 Characters
Plaques can be made in stainless steel or bronze. Please let us know your preference.
Choose your wildlife plaque