Weddings at Woodberry Wetlands
The Coal House at Woodberry Wetlands is an approved venue for non-religious marriage and partnership ceremonies registered with Hackney Council.
 
Just 10 minutes by tube from King's Cross, the historic Grade II listed Coal House at Woodberry Wetlands makes an idyllic wedding venue with its waterside view over 11 hectares of sweeping reeds, wildflower meadow, and woodland wildlife habitat. This intimate venue may be configured to seat up to 80 persons and dressed with scented flowers and other personal touches for the perfect romantic atmosphere for your special day.
 
The spectacular backdrop and tranquil setting provide ample space for private seasonal outdoor blessings and celebrations whilst you make your special vows. 
 
The Coal House also serves as an excellent base for receptions year-round and a variety of external structures may be commissioned to your bespoke design to enhance the venue and accommodate up to 150 guests for your wedding breakfast. 
 
Visit Hackney Registration Service Online  for more information about marriage procedures and booking a registrar or you may contact them on 020 8356 3355 or ceremonies@hackney.gov.uk
Hire information
About The Coal House

Credit Penny Dixie

This lovingly restored 19th century Grade II listed brick building features contemporary interior design, muted tones and bespoke handmade furniture and fittings. Its rooftop patio with panoramic views over both East and West Reservoirs is the perfect place to relax and unwind whilst watching birdlife pass overhead. Bright and open, the interior space is well suited to moderately sized receptions & parties, private dining, launch events, talks and meetings.

Hires at the Coal House also offer exclusive private access to its surrounding waterside terraces and garden which allow a great amount of space and marvellous views of the wetlands for larger function. It is also a registered wedding venue with Hackney Council and civil wedding and partnership ceremonies may be conducted within.

Information correct at time of print, and subject to change as updated. Please contact the events team for the most up to date hire options, via events@wildlondon.org.uk. 
The Coal House Capacity & Specifications

Capacities

Coal House

Standing reception         80 guests

Private dining                   50 guests

Theatre style                     80 guests

Ceremony                          80 guests

Rooftop patio                    20 guests

Grounds (West side of site)

Seated Marquee              150 guests

———————————————————-

Hire Times

Coal House & Grounds

Monday to Sunday:  7:00pm – midnight (Timings guests present)

Extensions to 1am are available, subject to a late license.

Full Day Hire

Monday to Sunday: 12:00pm – midnight

Extensions to 1am are available, subject to a late license.

Includes Coal House closure to public, with exclusive access to West side of reserve, available only on 6 occasions per annum.

The Coal House is fully licensed as a restaurant/ bar and for live and recorded music, sound limitations do apply.

The Coal House is also licensed for marriage ceremonies.

———————————————————-

Staff, Facilities & Access Times

Staff:  Venue manager, bar staff and event steward included in the hire fee. Any additional staff required may be provided at an additional charge.

Bar & Kitchen: Our open plan kitchen transforms into a stocked bar for your celebrations, including a selection of responsibly sourced wines, beers, soft drinks and a range of quality spirits

Furniture: Clients are welcome to use the café furniture at no additional fee. Additional furniture may be hired via the Events team

Toilets: There are two modern unisex toilets which feature baby changing facilities and disabled access.

Access Times: Clients may access the venue to set up from 5pm or 2 hours prior to guest arrival free of charge. For events that require a longer set up time, special arrangements may be made upon request.

Additional Exterior Structures & Facilities Hire: For larger events, the hire of additional facilities such as marquees and other external structures, furniture, sound equipment, lighting and toilets may be required; at an additional cost. These can be hired via our approved suppliers, please ask the Events team for more details.
Catering & Bar Services

Table settings The Coal House

Catering

We work exclusively with a hand-picked selection of catering suppliers providing delicious bespoke menus and specialising in seasonal, locally sourced produce. Our approved suppliers offer a wide range of cuisines and service styles, from four-course banquets to casual buffets or barbeques, to suit any budget.

Please ask the Events team for more details.

Bar Services

The Coal House will manage the bar service with drinks packages available to meet the specific requirements of your event. Please ask the Events team for more details.
Location, Transport & Local Amenities

Location:

The Coal House is located at 226 Lordship Rd, London N16 5HQ and accessed via Woodberry Wetland's main entrance on the New River Path where it meets Lordship Rd  MAP

 

Transport:

Underground – The closest tube station is Manor House on the Piccadilly Line which is an 8 minute walk from Woodberry Wetlands' main entrance. From the tube station exit, follow Seven Sisters Road in an easterly direction to Woodberry Grove which is the next traffic light.  Turn right on Woodberry Grove and the New River path and Woodberry Wetlands' main entrance is on your left hand side just past the shops and high rise buildings.

Bus – The nearest bus stop is  Woodberry Grove (Eastbound Bus Stop G and Westbound Bus Stop V) served by the following bus routes:  253, 254, 259 and 279.

Parking –  There is no public parking at Woodberry Wetlands. The closest unrestricted street parking is on Bethune Road atthe East side of the reserve. Metered street parking is available on the surrounding streets and controls are in operation 8:30am – 6:30pm. Be sure to check the Arsenal Football Club home schedule as additional parking restrictions may apply on these days.

Local Hotels:

United Lodge Hotel & Apartments (0.6 mi)

Cash Point Locations:

Nearest Shops: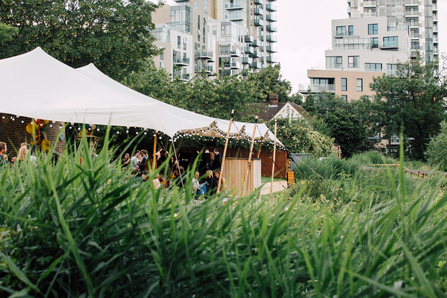 Enquire / Arrange a viewing
If you would like to discuss your options for venue hire, and potentially arrange a viewing, please contact the Events team at events@wildlondon.org.uk.  
Discover more venues