Nature is always there to support us.
Let's make sure we return the favour. 
 
In these challenging times you may not have been be able to visit your favourite nature reserve or travel far from home, but we'd like to help bring a little more nature into your life for your health, happiness - and for wildlife and the planet.
An increasing amount of us have turned to nature for solace, as wildlife carries on around us. Birds are continuing to serenade each other, trees are bursting full of life and mammals are busy in the midst of summer.
We've created a variety of wildlife-themed activities to help you to support wildlife and get your daily dose of nature during these difficult times, whether you have access to a green space or not, there's something for everyone.
Indoor activities
Outdoor activities
Craft activities
Wild London TV
Please feel free to share your wildlife encounters with us, we love seeing them.

Even in the most densely populated city in the UK there is still wildlife to be found in every corner.  If you don't have a garden or an outdoor space you can still learn about and support wildlife with our indoor activities below.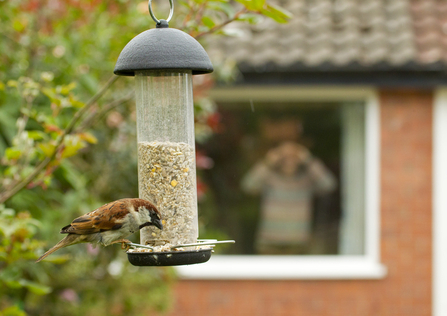 Plant window boxes

Pixabay

If you don't have a garden or outdoor space you can still attract wildlife by using window boxes.

Here's our simple guide to inviting wildlife to your windows

 
Bird watching

Find out what birds live near you with our urban birds spotter sheet.

You can find out more about what you see and identify any new sightings with our wildlife explorer tool.
Buy a window bird feeder

Mathew Frith

Window bird feeders are an excellent way of watching birds close up without the need for a garden.

We recommend Vine House Farm bird feed for your feeder.

Whenever you buy bird food from Vine House Farm, up to 4.5% of the value of your purchase goes to your local Wildlife Trust. Make sure you mention London Wildlife Trust when you buy!

Vine House Farm Bird Foods has been working with The Wildlife Trusts for the past 10 years, helping to protect and restore areas for nature and inspire people to experience wildlife first-hand. To date, Vine House Farm's donations have totalled over £1,250,000, including over £14,000 for London Wildlife Trust.

To find out more about Vine House Farm and to buy food direct from their conservation award-winning farm visit the Vine House Farm website. 

 

To find out more about the birds you spot, use our wildlife explorer tool
Tree watch

What trees can you see from your window? Have you ever noticed them before? Take the time to identify them.

You can find identify what you see with our wildlife explorer tool.
Help birds avoid window accidents

Birds can sometimes struggle to navigate our urban world. Help them out by creating a window feature.
Wildlife yoga

Work out wild style with these nature inspired yoga moves.
Make your own beeswax wraps

An eco-friendly alternative to cling film, these beeswax wraps will keep your food fresh and the planet happy.
Make your own binoculars
Make your own natural dye

Transform tired clothes with these natural dyes.

Discover the wildlife living in your garden and how to support it with our wild garden activities.
Don't have a garden? See what wildlife you can spot out and about on your daily exercise walk.
You can find out more about what you find with our wildlife explorer tool.
Let us know if you have any questions about attracting wildlife to your garden on info@wildlondon.org.uk and we'll be happy to help!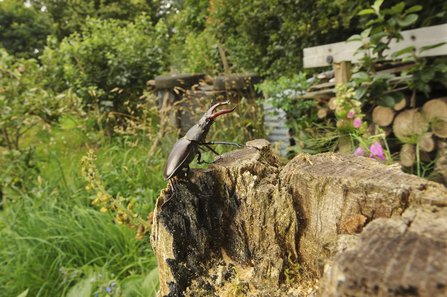 Explore your creative side with these wildlife themed craft activities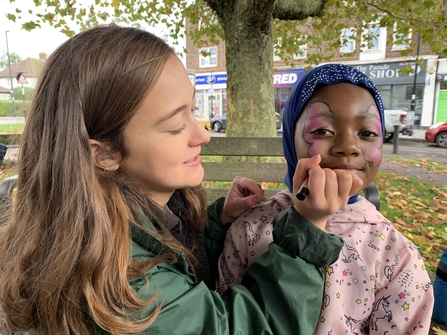 Learn more about the fascinating wildlife around you, hosted by London Wildlife Trust experts.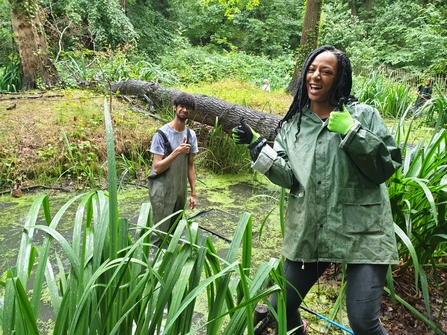 Wildlife Watch - London

London Wildlife Trust experts discuss nature topics and offer advice for how to look after wildlife.

A new video is uploaded every Friday.

Abi talks about the creepy crawlies hiding in your garden.

Great North Wood project officer Sam talks about the fascinating subterranean world of earthworms. 

Did you know they have five pairs of hearts?! 

Sunitha from the Brilliant Butterflies team demonstrates how to get up close to butterflies in your garden with a butterfly feeding table.

Find out more about the work we are doing to support London's butterflies here.
Nature Tots

Let your children find their wild side! Join us for Nature Tots LIVE.

Featuring storytelling and wildlife topics for little ones.Suitable for 18 month – 5 year olds

Tune in every Monday at 10.30am
Camera Trap

A great spotted woodpecker trips the camera

A fox strolls past the camera

There's a party on the birdfeeder!

Male great spotted woodpecker playing hide and seek

A healthy looking fox having a nose around
Send us your photos
We love seeing and hearing about your wildlife discoveries, especially during this difficult time. Send us your wildlife sightings and we'll share the best ones here.
Email - marketing@wildlondon.org.uk
Twitter @WildLondon
Facebook @LondonWildlifeTrust
Instagram @wild.london
Please support London's wildlife
As you may have read already, London Wildlife Trust is currently set to make significant financial losses due to the impact of coronavirus. As a charity we are reliant on donations to continue working hard for wildlife. Please give if you can.
Sign up to our newsletter