This general election, ask for a #WilderFuture
Our natural world is in deep trouble. We're facing a climate and ecological emergency. Wildlife is in serious decline, in ever more isolated pockets, and the UK has become one of the most nature-depleted nations in the world.
But momentum for change is growing rapidly. Public concern for the environment is higher than ever and thousands of people have been calling on government to stand up for nature and tackle the climate crisis head on.
The general election is a golden opportunity to build on this momentum, but we need your help. We must all urge parties and their candidates to act now to turn things around.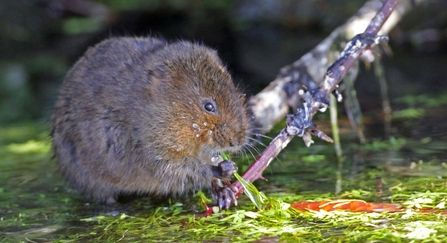 Use your voice!
Nature urgently needs our help to recover. As the country heads to the polls for a General Election on 12 December, it's crucial that candidates from all political parties hear about how important the environment is to people across the UK. We also want all candidates to understand our vision for wildlife so they can take the right steps to help ensure nature's recovery, should they be elected into office. Tell them that they need to step up for nature!
We are calling for candidates to stand up for nature by committing to:
 1. An ambitious Environment Act
If and when we leave the EU, we will need to replace important existing environmental protections. The Wildlife Trusts are calling for an ambitious Environment Bill to ensure the recovery of nature for the benefit of wildlife and our own health, wellbeing and prosperity. We are also calling for the resulting Environment Act to put a Nature Recovery Network in law.
2. An Agriculture Bill to drive nature's recovery
Intensive agriculture is one of the leading causes of wildlife declines across the country. Leaving the EU and the Common Agricultural Policy provides an unprecedented opportunity to rethink how public payments to farmers and land managers are distributed and used.  We urge for a rethink as to how the land is used and how land managers can be supported in delivering 'public goods' or ecosystem services.
3. Action to revive our marine environment
The Wildlife Trusts are also proposing a new UK Marine Strategy to change how we fish, how we extract resources, and how we manage planning at sea. Currently our seas are overfished and threatened by pollution, unsustainable exploitation and development, and the effects of climate change. We believe the UK could lead the world in marine management.
4. Action for development to deliver net gains for biodiversity
London is planned to accommodate over 65,000 new homes each year until 2041. We are calling for the appropriate planning policies and resources to ensure that developments are located in the least environmentally damaging places, and designed to deliver net gains for biodiversity as committed by the last Government in March this year.
Quiz your candidates

If you want to quiz your candidates on what they'll do for nature, we've put together a few quick questions you can ask them:

How will you and your party act decisively to tackle the crises in the natural environment?

You could also ask: Will you and your party commit to an Environment Act that creates connections for wildlife and tackles nature's decline head on?

What will your party do to support farmers in contributing to nature's recovery?

If you want more detail, ask them: Will you and your party introduce an Agriculture Bill that pays farmers for helping wildlife's recovery and other positive environmental actions?

What will your party do to protect and revive our seas?

More specifically: Will you make sure that our seas are managed properly, and important marine habitats are given the high level of protection they need and deserve?

Make a bigger splash – share these questions with others who care too!
London Wildlife Trust is an independent charity. The views and opinions expressed by election candidates are theirs and the above or any other statement from the Trust is not an endorsement or otherwise by London Wildlife Trust for, or on behalf of, any candidate, political party or parties.