Keeping it Wild: Youth Accelerator Fund
Our brand-new digital programme began in October 2020. Designed to teach young people aged 16-25 more about digital marketing through online Workshops and equipping them to create a fundraising campaign for London Wildlife Trust through an online paid Training Placement.
Participants had the opportunity to dive into this varied and exciting world for a few days, learn what jobs are available and gain skills to help promote and protect wildlife in the capital. 
This programme was delivered by London Wildlife Trust, Open and supported by youth partners Headliners and London Youth. The opportunity is funded by the DCMS Youth Accelerator Fund via National Lottery Heritage Fund. 
Part 1: Digital Media & Marketing Workshops
Two free online, interactive workshops designed to give up to 80 young Londoners the skills and confidence to pursue a career in the charity fundraising and marketing industries.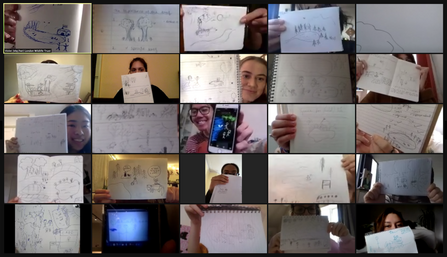 Part 2: Digital Media & Marketing Training Placements
9 young people had the opportunity to put into action the tips and tricks they learnt during the workshop and be part of a unique four day paid Training Placement hosted by Open. They worked in teams to create a real-life social media fundraising campaigns for London Wildlife Trust, including this example pictured below:

Part 3: Showcase Event
The team hosted a youth-led event showcasing the achievements of our latest programme's Digital Media and Marketing Trainees. Both events were curated by young people involved in the project who also presented their work and experiences on the programme. 
This was a free virtual event held across Thursday 9th - Friday 10th December 2020 - organised to explain how our Youth Accelerator Fund project came together, as well as to provide valuable career advice for young people on entering the sector.
You can watch the recordings of the two online events below.
Showcase Event Part 1: Youth Digital Fundraising & Environmental Careers
Video content: 
| | |
| --- | --- |
| 4:50  |  Project overview |
| 8:06 |  Training Placements overview |
| 14:00 |  "My Training Placement experience" |
| 16:05  |  The campaigns revealed |
| 31:14  |  The results revealed |
| 40:40 |  Careers Q&A with Headliners (UK), London Wildlife Trust and Open |
Showcase Event Part 2: Youth Involvement & Digital Fundraising
Video content: 
| | |
| --- | --- |
| 05.00   | Project overview |
| 18:00  | Trainees present the campaigns |
| 27:00  | Headliners (UK) present their involvement in the project |
| 31:35 | Trainees describe their experiences on the programme |
| 37:30 | Project legacy |
| 41:44 | Q&A with the project team |
| 1.01.25 | In conversation with Keeping it Wild Trainees |