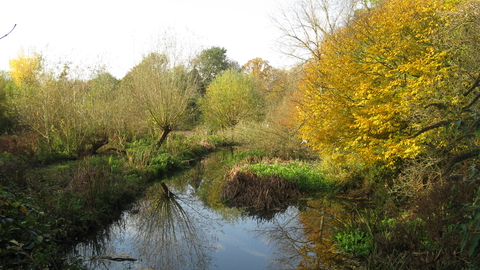 A fantastic variety of habitats including woodland, reedbed, ditches, ponds and river can be found on a site formerly used for gunpowder production in western Twickenham.

The Shot Tower visitor centre is currently closed due to Covid-19, but the nature reserve remains open.
Know before you go
Grazing animals
No
Access
There are entrances by footpath via Ellerman Avenue or Great Chertsey Road. Bus 110 stops in Powder Mill Lane, and bus 111 in Hounslow Road, both near the Ellerman Avenue entrance; buses 481 and H22 stop in Hospital Bridge Road, near Great Chertsey Road. The nearest railway station is Whitton, a 15-minute walk away.  
Most of the island is accessible by wheelchair, but one footpath has steps. Paths range from smooth to dirt. There are a number of bridges providing access to the island, without steps. Along the guided walk there is a bench, and seating by the river-dipping platform. The Shot Tower is only accessible at ground floor level for wheelchair users, where there are toilets.
Limited parking is available on nearby roads.  
When to visit
Opening times
The nature reserve is free to visit at all times. The Shot Tower is open on Sundays 1.30pm-4pm and for special events.
Best time to visit
April to August
About the reserve
Surrounded by the river in Crane Park, at Whitton near Twickenham, the reserve is a mosaic of woodland, scrub, ditches, ponds and reedbed that has grown up since it stopped being used as an industrial area in the mid-20th century. Crane Park Island now provides a home for many important and rare species and is an important place to learn about the River Crane as it flows downstream towards Isleworth.
At the entrance to the reserve is the Shot Tower, a Grade II listed building formerly used for lead manufacture. It was restored by the Trust in 2004 as a visitor centre, with an exhibition, education rooms and a firth floor viewing area. It is currently opens to the public every Sunday.
Crane Park Island is a multiple Green Flag award winner.  
History of Crane Park Island
Crane Park is the site of the once notorious Hounslow Gunpowder Mills, built where the island is today. There were other mills along the river as far back as 1066, producing swords, oil and flour. After the mills closed, and a brief period as an ornamental boating pond before it became derelict, the pond was drained to create the reserve in the 1981. London Wildlife Trust has managed it since 1986. The site has been surveyed by English Heritage under a project aimed at discovering, recording and managing the archeological remains left in the park. Further investigations into Crane Park's history are due to be undertaken as part of a new London Wildlife Trust project called Explosive Histories, which started in November 2016.  
Management of Crane Park Island
Riverside willow and osier are regularly coppiced, reedbeds are cut on rotation, and invasive species management is undertaken regularly.  
Status of Crane Park Island
Part of a Site of Metropolitan Importance; Local Nature Reserve  
Family learning at Crane Park Island
Crane Park Island hosts a programme of family learning opportunities aimed at the Richmond community through funding from Richmond Borough Council.
For more information and to book on to a workshop, visit our Events page, find the workshop and follow the details. Booking is essential.
We also run other events throughout the year for all the communities around Crane Park Island. Specific activities depend on the time of year and weather conditions. Activities will include river dipping, pond dipping and minibeast hunting. Upcoming sessions will be listed on our Events page.  
Outdoor Education 
We offer inspiring hands-on lessons amongst the wildlife at Crane Park Island. Find out more at Outdoor education 
And visit our bookings page to book your place.
Nature Trail 
Explore the wondrous wildlife at Crane Park Island with our nature trail. 
Download the sheets below to complete the quiz and take rubbings of each brass post as you journey through the reserve.
Volunteer with Crane Park Island's team
To find out more about volunteering opportunities contact: emalins@wildlondon.org.uk
Get involved at Crane Park Island  
Record species you've spotted at Crane Park Island
Species
Habitat
Environmental designation
Local Nature Reserve (LNR)