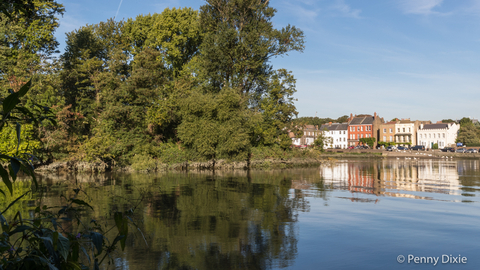 Restricted access - Isleworth Ait
An undisturbed sanctuary for birds, beetles and rare molluscs on an island in the middle of the River Thames.
When to visit
Opening times
Because of Isleworth Ait's location on the River Thames, access is limited. The best opportunities to get on to the island are to join one of the regular workdays.
Best time to visit
April to July
About the reserve
This small island, or 'ait', is one of the Trust's more unusual reserves - and benefits from its isolation from people. It is remarkable for its tall canopy of mixed woodland, rooted on a bank of ground that is regularly inundated by high tides, and supports one of the only remaining areas of natural tidal marginal habitat still not developed or canalised on the Thames.
The Ait also provides an undisturbed sanctuary for a variety of birds, and supports several rare mollusc populations.  
History of Isleworth Ait
Isleworth Ait was historically part of the Syon Park Estate, owned by the Duke of Northumberland, and was once a centre for the production of osier, a type of willow used to weave baskets. Five neighbouring islands have now disappeared. Today Thames Water owns the Ait, after the Metropolitan Water Board bought the island from the Duke of Northumberland in the 1930s. It has been managed by London Wildlife Trust as a nature reserve since 1995.  
Status of Isleworth Ait
Part of a Site of Metropolitan Importance for Nature Conservation  
Get involved at Isleworth Ait   
Record species you've spotted at Isleworth Ait
Volunteer with Isleworth Ait's team
If you are interested in volunteering please contact Simon Hawkins on 07772 821 134 or email shawkins@wildlondon.org.uk