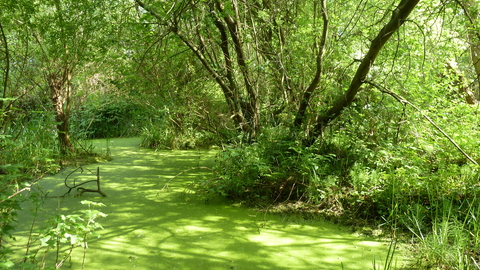 Restricted access - Spencer Road Wetlands
An area of secluded, wet willow woodland and reed swamp teems with wildlife next to south London's River Wandle.
Know before you go
Access
There is one entrance, in Spencer Road. The site is served by bus services S1 and 127, which both stop on London Road, about a five-minute walk away. The nearest railway stations are Mitcham Junction and Hackbridge, both about a 15-minute walk away in opposite directions along London Road.
The site is step-free and flat. There is a mixture of boardwalks, which are anti-slip, and footpaths. There is a bench by the entrance. Street parking is available in Spencer Road. 
When to visit
Opening times
No regular opening hours
Best time to visit
April to July
About the reserve
Spencer Road Wetlands stand on the eastern Wandle floodplain near Hackbridge, on land that was once used for watercress production. It supports semi-natural, wet woodland (carr) habitats that are considered to be typical of those which might naturally occur alongside the River Wandle. The main habitats are reed swamp with mixed wetland vegetation, willow carr, sedge-bed, ponds, and mixed broadleaf woodland with marginal riverside vegetation.  
History of Spencer Road Wetlands
From at least 1895 to 1959 the land was subjected to controlled flooding for the commercial production of watercress; an important agricultural crop for this part of London. After watercress production ceased, the site was left unmanaged, allowing natural colonisation by willow woodland until 1989, when Sutton Conservation Volunteers began working on the site to encourage regeneration of wetland habitats. The Trust has managed the Wetlands since 1989; it was declared a statutory Local Nature Reserve in 1992.  
Management of Spencer Road Wetlands
The majority of the work is undertaken by local volunteers, who clear overgrown vegetation and tree branches from the boardwalk and dipping platform, as well as rotational cutting of the reedbeds during the winter in order to establish new growth. Willows are also periodically cut back in certain areas.  
Status of Spencer Road Wetlands
Part of a Site of Metropolitan Importance for Nature Conservation, Local Nature Reserve
Volunteer with Spencer Road Wetlands' team
Call Edwin Malins on 020 7261 0447 or email emalins@wildlondon.org.uk
Get involved at Spencer Road Wetlands   
Habitat
Environmental designation
Local Nature Reserve (LNR)