Shop at Walthamstow Wetlands
The Walthamstow Wetlands shop offers a carefully selected range of products which are all inspired by the unique nature of Europe's largest urban wetlands as well as the area's distinctive industrial heritage. Whether you need a gift for a loved one or a treat for yourself, there is something for everyone.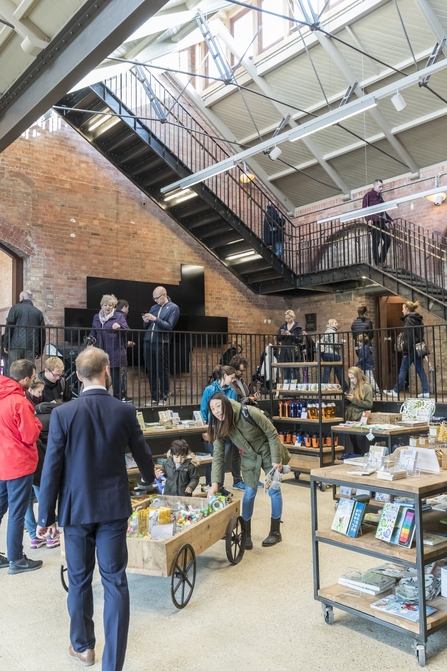 There is a selection of cards on offer for all occasions, including those illustrated by award-winning artist Daniel Mackie and local artist Carla Ferrari P who uses 100% recycled envelope paper, compostable corn-starch bags, 50% recycled 'coffee-cup' card, vegetable-based inks and alcohol-free print. Forever cards are unique 3D Lazer cut cards made by a UK family business. The shop also offers a variety of books for all interests including the Fifty plants that changed the course of history by Bill Laws and books on wildflowers, birds, trees, butterflies, leaves and plants.
Our shop focuses on stocking eco–friendly products that reduce single-use plastics and are kinder to our environment. Our range of Friendly Soaps include shampoo and conditioner bars that are free from plastic, parabens, palm oil and are cruelty-free. Our Save Some Green range include bamboo toothbrushes, plastic-free earbuds, vegan dental floss and recycled paper towels and toilet paper. We also stock Black n Blum active charcoal water filters that are 100% compostable.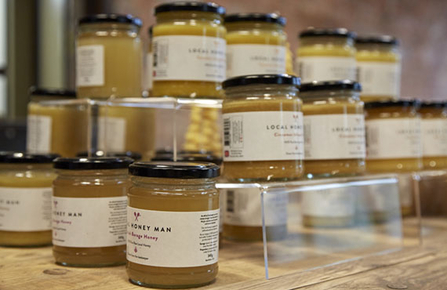 Local florists, the Borrowed Light Floral Studio, have also provided house plants for sale in the shop including terrarium spheres, air plants and succulents. You can also purchase locally produced honey by BEE17, an award-winning sustainable beekeeping project supporting local communities. Honey is also available from the Local Honey Man.
There are also educational and engaging toys for children of all ages with a selection of cuddly toys, stretchy insects, binoculars and magnifying glasses to help young visitors explore the site and discover all the creatures great and small. For our adult visitors, there are binoculars by Opticron for sale to get you started on your bird watching journey with us.
With a focus on minimising plastic consumption, the shop also includes a section offering reusable travel mugs by Bamboo Cup, lunch boxes and bottles, and also thermos flasks by black + blum.