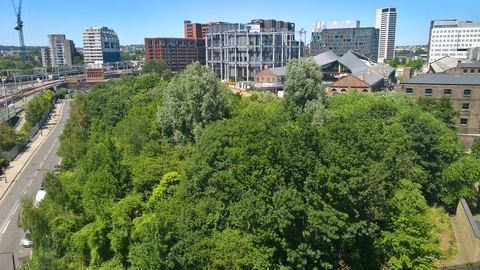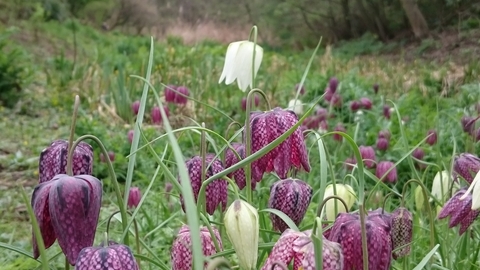 Camley Street Natural Park
Camley Street Natural Park in King's Cross is temporarily closed to the public while we construct a new visitor and learning centre.
Know before you go
Grazing animals
No
Access
The area around the new visitor centre and main path down to the pond dipping platform will have accessible surfaces, whilst other footpaths around the site are surfaced in woodchip. The visitor centre will be fully accessible, including an accessible toilet. Two changing places toilets are located at: Camden Leisure, 5 St Pancras Square and King's Cross Station.
Steep steps with handrails at the southern end of the site lead to the viewpoint on the canal.
No visitor parking available but drop-offs can be made by arrangement. Camley Street has double yellow lines on both sides.
When to visit
Opening times
Currently closed to the public while a new visitor and learning centre is being constructed.
Best time to visit
April to September
About the reserve
Construction of the new Visitor and Learning Centre is well on the way. Alongside the Centre, much-needed habitat enhancement works are taking place, including desilting the ponds, enhancing the wildflower meadow and improving the wetland and reedbed areas. 
100m of multi-functional floating reedbeds have been placed in the water's edge along this area of the Regent's Canal. They incorporate habitats for birds to nest, invertebrates to live, fish to spawn and shelter from predators. The reedbeds will also provide a range of ecosystem functions, including the absorption of excess nutrients from the water, mitigating canal pollution.
Camley Street Natural Park is a unique urban nature reserve, surrounded by significant new development in a bustling part of central London - between King's Cross and St Pancras. The woodland, grassland and wetland habitats including ponds, reedbed and marshy areas, provide a rich habitat for birds, butterflies, amphibians and plant life, while the new Visitor Centre will cater for the thousands who visit annually.
We are creating a wildlife supporters' wall on the outside of the new Visitor Centre. A plaque is the perfect way to celebrate a birthday, wedding, new baby, anniversary, or to remember a loved one, whilst also supporting the future of Camley Street.
Species
Environmental designation
Local Nature Reserve (LNR)
Site of Metropolitan Importance for Nature Conservation
Volunteer with Camley Street's team

Despite the site closure, practical conservation still continues to be carried out by staff. The team runs volunteering days on Thursdays and induction sessions once a month. Contact Karolina Leszczynska-Gogol for more information: klgogol@wildlondon.org.uk 
History of Camley Street Natural Park

The site was once a coal drop for the railways into nearby King's Cross Railway Station, which was demolished in the 1960s. It had been colonised by nature so the Trust ran a campaign to save the site from development and instead create a nature reserve; Camley Street Natural Park opening in 1985.  
Management of Camley Street Natural Park

As visitor numbers increase care is taken to protect the reserve's wild spaces and ensure nature is allowed to thrive through careful management of paths and habitats from trampling and disturbance.  
News and events from Camley Street Natural Park