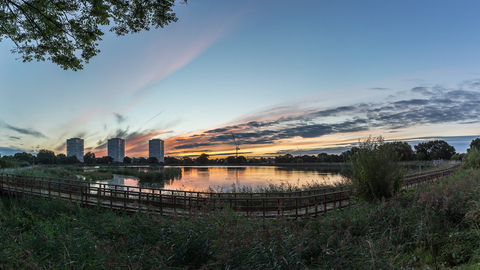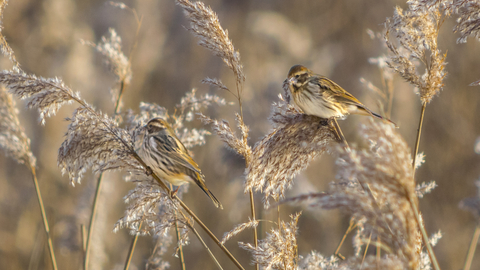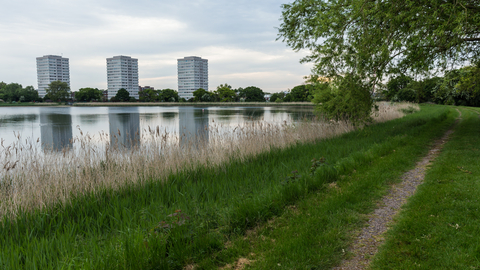 Due to ongoing coronavirus restrictions, the Coal House Cafe will be open for takeaway only and there will be no outdoor seating available. The cafe currently closes at 4pm.

When you visit the reserve, please follow all current Government guidance around social distancing, who you can visit with and hygiene. There will be signage where necessary on-site. We urge you to also follow Government guidance on non-essential travel and please stay local to your nearest reserves and greenspaces.

From 17th August 2020 running and jogging will no longer be allowed on site at Woodberry Wetlands. This is because it has proved impossible to maintain safe social distancing between runners and other visitors. Studies have also shown that running or jogging is far more disruptive to wildlife than walking. You are free to run along the New River Path [ on the other side of the river] and in nearby Clissold Park and Finsbury Park

A working reservoir in Manor House, closed to the public for almost 200 years, is now a beautiful urban wetland nature reserve.
Know before you go
Access
There are two entrances, one on the New River Path from Lordship Road and one at Newnton Close. Manor House Underground Station (Piccadilly line) is a five-minute walk from the west entrance and Stamford Hill station a five-minute walk from the northern entrance. Buses 253, 254, 259, and 279 stop in nearby Seven Sisters Road.
Access is level into the reserve, with no steep gradients on the main wheelchair-accessible path that leads from the main entrance to the Coal House, and then on to the New River Studio. Seating is provided at various points around the route. Disabled parking bays are available outside each entrance.
Dogs
Guide dogs only
Guide dogs and Assistance dogs only
When to visit
Opening times
All gates are now open 9am – 4pm

Please note: the cafe will be closed on Monday the 8th of March for essential maintenance. This will not affect the rest of the reserve and we expect to be open again as usual from Tuesday 9th of March.
Best time to visit
March to November
About the reserve
Woodberry Wetlands was opened by Sir David Attenborough in 2016, having previously been known as Stoke Newington East Reservoir. The wetlands are the result of a proposal by the Trust to enhance the reservoir for wildlife and open it up so people can access a high quality, natural space in a densely built-up environment. The nature reserve is now a thriving habitat for migratory birds and is one of the Trust's top visitor attractions. Hedgerows and wildflowers line the banks of the reservoir, while newly-created reedbed extensions provide a wetland haven for waterfowl.
History of Woodberry Wetlands
The New River is a man-made waterway built in 1613 to bring clean water into London. Stoke Newington East and West Reservoirs were built in 1833 to hold water from the New River and supply drinking water for new homes in the area. From 1955 chlorine and sodium phosphate gas treatments to 'purify' the water in the reservoirs made the site hostile to wildlife. These treatments ceased by the 1980s and nature began to thrive. Proposals to sell off the East Reservoir for development in the late 1980s led to the successful Save the Reservoirs Campaign, which the Trust supported. The Wetlands vision, which grew from the Trust's management of a community garden next to the East Reservoir, saw the East Reservoir transformed and opened to the public in 2016.  
Management of Woodberry Wetlands
Woodberry Wetlands is managed by a volunteering team who help maintain reedbeds, grassland and hedgerows through regular conservation volunteering workdays. A programme of wildlife monitoring and surveys is also undertaken.   Facilities at Woodberry Wetlands A boardwalk from the west entrance leads visitors to the Coal House Café, where a roof terrace provides excellent views over the nature reserve. At the northern entrance the New River Studio provides classroom facilities. There are disabled toilets at both locations.    
Status of Woodberry Wetlands
Part of a Site of Metropolitan Importance for Nature Conservation  
Get involved at Woodberry Wetlands   
Record species you've spotted at Woodberry Wetlands
Book a school trip to Woodberry Wetlands
Find out more about hiring the New River Studio for a meeting
Find out more about hiring the New River Studio for a Birthday Party 
Guided Tours at Woodberry Wetlands
Join our Nature Tots Forest School programme
 
Volunteer with the Woodberry Wetlands team
We usually have practical conservation volunteering sessions on Fridays and Saturdays, from 11am until 4pm. These are currently paused. For more information email: enquiries@wildlondon.org.uk
 
Habitat
News and Events from Woodberry Wetlands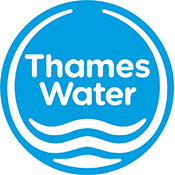 Woodberry Wetlands was opened to the public in 2016. The site is owned by Thames Water and managed by London Wildlife Trust.