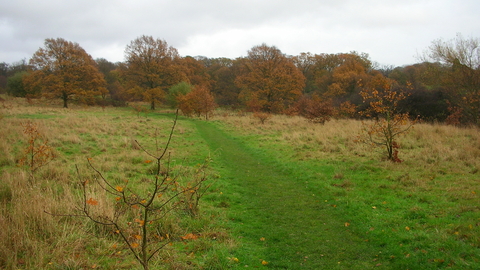 This steeply-sloping medieval woodland in East Barnet is a great place to spot bats and is also home to rare trees and flowers.
Know before you go
Access
There are entrances to the nature reserve from Oak Hill Park and from Mansfield Avenue. The 298 bus service stops on Chase Side, on the eastern side of the nature reserve. The nearest station is Cockfosters (Piccadilly line), a 10-minute walk away, while Oakleigh Park Railway Station is also within a short walking distance.
The terrain can be difficult to access because of steep slopes and steps, and the footpaths can become muddy in wet weather. There is limited seating around the site. Street parking is widely available around the local area, and there is a visitors' car park in Oak Hill Park.
When to visit
Opening times
Open at all times
Best time to visit
April to July, September to November
About the reserve
The site supports a beautiful woodland of hornbeam, oak and ash, established on the slopes of a valley which looks stunning in autumn as the leaves turn gold. Standing on the eastern side of Oak Hill Park, the wood is steeply sloped, while the banks to the north have been set aside for natural oak woodland regeneration. A tributary of the Pymmes Brook flows within the wood.   
History of Oak Hill Wood
Oak Hill Wood is an ancient woodland thought to date back to at least the 11th century when it was owned by the church, before being sold and incorporated into the Oak Hill Estate in the 1550s. The estate came into public ownership in 1931 when the local authority purchased the land, opening it in 1933 for public recreation.
Owned by Barnet Council, the woodland became a focus for the Trust's conservation management in 1985, and in 1997, along with the eastern slope, was declared a Local Nature Reserve.  
Management of Oak Hill Wood
There are plans to restore wildlife habitats along the Pymmes Brook tributary by removing barriers and concrete culverts, possibly including the creation of a small wetlands area on the valley floor in Oak Hill Park. Several ponds and ditches are kept open for great crested newts, while areas of grassland are managed to stop scrub encroachment. The footpaths are being improved with natural materials such as woodchip.   Facilities at Oak Hill Wood There are wayfinding signs and interpretation boards to help navigate around the reserve. 
Status of Oak Hill Wood
Part of a Site of Borough Importance for Nature Conservation, Local Nature Reserve  
Get involved at Oak Hill Wood   
To find out about volunteering at Oak Hill Wood contact Edwin on emalins@wildlondon.org.uk or 020 7261 0447
Habitat
Environmental designation
Local Nature Reserve (LNR)