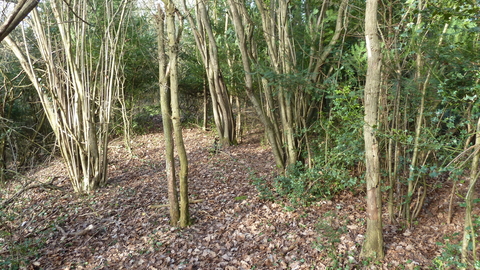 Chalk grassland and yew woodland combine to make this North Downs landscape particularly special for wildlife lovers.
Know before you go
Grazing animals
Grazing occurs in the surrounding Riddlesdown SSSI, which one needs to traverse to reach our reserve
Access
The entrance to the Trust's site is via a stepped footpath in Garston Lane. It is a 10-minute walk from Kenley Rail Station, following Godstone Road south until you see the steps on the left side leading to Garston Road. There is a bus stop, serviced by the 407 bus route, adjacent to the steps.
The footpaths and banks are steep. However, the wider Riddlesdown SSSI area is accessible via Riddlesdown Road, which runs from north to south through the area and is either paved or gravel. This passes the edge of the Trust site. There is also a car park on Riddlesdown Road accessible from the northern end. Walk up from the Godstone Road via a steep gravel track, bearing off into woodland, turn left into this woodland after passing over a railway bridge to reach the reserve.
When to visit
Opening times
Open at all times
Best time to visit
April to September
About the reserve
Riddlesdown nature reserve is a small enclosed area of a wooded slope that forms part of a much larger area of the Riddlesdown Site of Special Scientific Interest (SSSI); mostly owned and managed by the City of London Corporation. Riddlesdown supports the largest single expanse of old calcareous scrub in London. The Trust's reserve within it consists of a pocket of chalk grassland surrounded by a mosaic of chalk scrub of hawthorn, dogwood, hazel and whitebeam, with a developing woodland of yew, sycamore and ash. It is a valuable habitat for birds and invertebrates. 
History of Riddlesdown SSSI
Thousands of years of human activity on Riddlesdown have left a range of features, including earthworks, old trackways and a Roman road. At one time common land, it was threatened with enclosure following the opening of the nearby railway in the 1850s and following the efforts of a local family, City of London Corporation purchased most of the site in 1883 for public benefit. In more recent times, livestock have grazed pasture and kept open the characteristic downland landscape. The Trust acquired the reserve in 1999 from the British Railways Board.  
Management of Riddlesdown SSSI
The chalk grassland is cut each year in late summer to prevent scrub encroachment. The majority of Riddlesdown SSSI, managed by City of London Corporation rangers, is subject to grazing, hay-making and rotational coppicing.   Facilities at Riddlesdown SSSI There are no public facilities available in the reserve. The wider Riddlesdown SSSI area has paved footpaths, wayfinding signs and a car park.     
Status of Riddlesdown SSSI
Within a SSSI, Site of Metropolitan Importance for Nature Conservation, Metropolitan Green Belt  
Volunteer with Riddlesdown SSSI's team
Get involved with our Brilliant Butterflies project taking place here. Email Anna at brilliantbutterflies@wildlondon.org.uk
Get involved at Riddlesdown SSSI   
Habitat
Environmental designation
Site of Special Scientific Interest (SSSI)