Be a part of Woodberry's future
Help keep it open for people to visit
Thanks to the amazing support of people all over London (and beyond!) we were able to raise enough money to fund the opening of Woodberry Wetlands for one year, after the devastating impact of Covid-19. Now you can help secure its future for longer. 
Your help is still needed to help keep Woodberry open as we face the long-term financial effects of the pandemic. Please help keep these wetlands open for local people with a gift today. We can't do it without you. 
£16 can help us buy hardwearing gloves for two volunteers to work safely,
maintaining the reserve's reeds, hedgerows and public walkways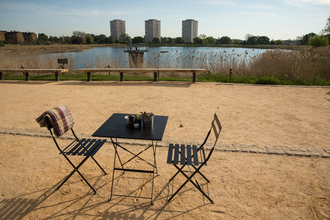 £40 can help to pay for cleaning the public spaces on the reserve,
so that we can safely re-open and run it for local people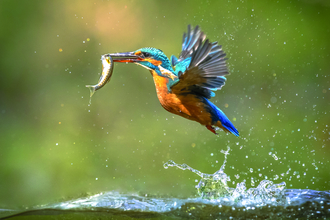 £100 can help our dedicated staff keep Woodberry Wetlands open
for everyone to visit and enjoy for free.
At the beginning of June 2020 Woodberry was in dire straits – London Wildlife Trust was facing significant losses due to the impact of the coronavirus pandemic, and with Woodberry Wetlands costing £110,000 a year to keep open, we simply couldn't afford it – it had to stay closed. 
We can normally meet these costs, thanks in part to generous support from our London Wildlife Trust members. But there are other income streams we also depend on, which came to a shuddering halt in March, including public events we hold at Woodberry Wetlands, and the popular Coal House Café. These are significant losses, and even with reopening, we will continue to lose a lot of this usual income, particularly as we continue to be unable to hold events.  
Woodberry was saved for another year thanks to the amazing support of people from all over London (and beyond!), raising over £60,000, and £55,000 in match funding from Berkeley Homes and Hackney Council. 
Be part of Woodberry Wetlands' continued future by making a donation directly towards this special nature reserve/place today.  
Your donation will go directly to the reopening, maintenance and running of Woodberry Wetlands. 
If you would prefer to give a regular donation, you can become a member of London Wildlife Trust (this donation will not be restricted to Woodberry)
You can also donate:
By post - please download and complete our donation form and send a cheque made payable to London Wildlife Trust: London Wildlife Trust, Dean Bradley House, 52 Horseferry Road, London, SW1P 2AF. Please note that this is for the Woodberry Wetlands Appeal. Please note that there will be a delay in processing postal donations but they will be kept safe by Royal Mail in the meantime. 
If you aren't able to print our donation form please send a note with your cheque including your name and contact details and let us know if you would like to Gift Aid your donation, so we can send you a Gift Aid declaration form in the post. Unfortunately we cannot claim Gift Aid from your donation unless you have filled in a Gift Aid declaration form. 
You are welcome to donate anonymously if you wish.
Alternatively you can donate by phone - call 0207 803 4272 (Monday – Friday, 9.30am – 5.30pm).
Thank you