**Update: We are delighted to announce that thanks to the amazing support of people from all over London (and beyond!), over £60,000 has now been donated to save Woodberry Wetlands. We also received £55,000 in match funding from Berkeley Homes and Hackney Council. 
This means that Woodberry Wetlands is now funded for the next year. Any further donations will still go directly to keep Woodberry open beyond this year!**
Help save Woodberry Wetlands for you to visit
We don't want you to lose this valuable space
Your help is urgently needed to open Woodberry Wetlands again, and to keep it open after the devastation of Covid-19. Please help save these wetlands for local people with a gift today. We can't do it without you.
£16 can help us buy hardwearing gloves for two volunteers to work safely,
maintaining the reserve's reeds, hedgerows and public walkways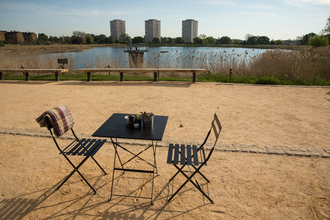 £40 can help to pay for cleaning the public spaces on the reserve,
so that we can safely re-open and run it for local people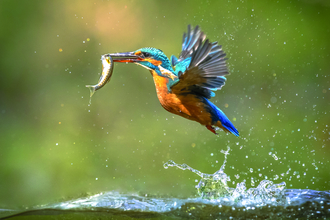 £100 can help our dedicated ranger, Hadi, to keep Woodberry Wetlands open
for everyone to visit and enjoy for free.
When Woodberry Wetlands was hard-won by the dedication and drive of local people, we never thought we'd see it at risk of closing its gates to the public again just four years later. Please, don't let that hard work unravel. 
If you've ever visited Woodberry Wetlands, you'll know what an oasis of tranquillity it is and how rich in wildlife, amidst London's bustle and hubbub. Unfortunately, we had to close when the UK went into lockdown, as not only could we not open it safely within social distancing guidelines, the losses we are suffering as a result of the pandemic mean we cannot afford to keep it open to the public. We currently expect to lose over £650,000 of our expected income over the next 12 months. We are doing everything that we can to mitigate the impact of the pandemic and find new sources of funding, but we still need your help.
As a working reservoir, Woodberry Wetlands needs more day-to-day staffing and input from us than other reserves we run. It costs about £110,000 to run each year, none of which comes from council funds. We can normally meet these costs, thanks in part to generous support from our London Wildlife Trust members.
But there are other income streams we also depend on, which came to a shuddering halt in March, including public events we hold at Woodberry Wetlands, and the popular Coal House Café. These are significant losses. If we can't replace them, we will have to keep Woodberry Wetlands closed, even though other London reserves are able to remain open for people to spend time in and enjoy. 
Iconic and beautiful birds, like the great crested grebes performing their mesmerising courtship display, or kingfishers dashing past with a bright flash of blue, will continue  to visit these extra-special wetlands. We want you to be able to as well.
We are now pleased to announce that Berkeley Homes and Hackney Council will be match funding all donations up to £55,000! Your donation will now bring us even closer to our goal. 
Please help us re-open Woodberry Wetlands, so people can come back in, now and in the future.
Your donation will go directly to the reopening, maintenance and running of Woodberry Wetlands. 
If you would prefer to give a regular donation, you can become a member of London Wildlife Trust (this donation will not be restricted to Woodberry)
You can also donate:
By post - please download and complete our donation form and send a cheque made payable to London Wildlife Trust: London Wildlife Trust, Dean Bradley House, 52 Horseferry Road, London, SW1P 2AF. Please note that this is for the Woodberry Wetlands Appeal. Please note that there will be a delay in processing postal donations but they will be kept safe by Royal Mail in the meantime. 
If you aren't able to print our donation form please send a note with your cheque including your name and contact details and let us know if you would like to Gift Aid your donation, so we can send you a Gift Aid declaration form in the post. Unfortunately we cannot claim Gift Aid from your donation unless you have filled in a Gift Aid declaration form. 
You are welcome to donate anonymously if you wish.
Alternatively you can donate by phone - call 0207 803 4272 (Monday – Friday, 9.30am – 5.30pm).
Thank you