South of the River Thames, an ancient landscape of woodland and wooded commons once covered the high ground between Deptford and Selhurst.
The Great North Wood is a sprawling ancient landscape that gradually became fragmented by the development of south London's suburbs – but whose name lives on in districts such as Norwood, Gipsy Hill, Forest Hill and Penge ('edge of wood').
 
Once stretching for several miles between the Thames and Croydon, today the Wood consists of a series of small woodlands, parks, cemeteries, sports grounds, railway embankments and gardens – all of which provide a home for nature within a modern urban landscape.
The Great North Wood now has the potential to grow again, to act as a rich wildlife and natural heritage resource for Londoners, and a more effective 'green lung' to clean the air and provide a place for people to relax and enjoy.
There are around 20 woodlands or wooded areas where you can still see green woodpeckers high in the trunks of oak trees and purple hairstreak butterflies floating among the leaves.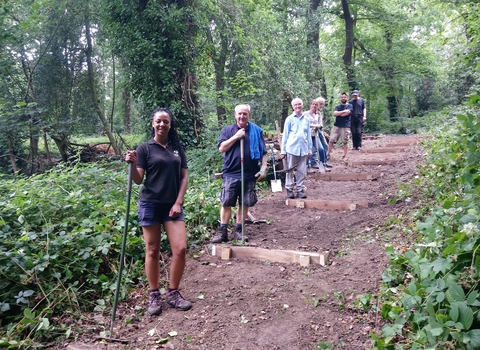 Phase 1
As part of the Living Landscapes initiative, London Wildlife Trust was awarded a grant of nearly £700,000 from Heritage Lottery Fund to launch the Great North Wood project in June 2017. 
Find out more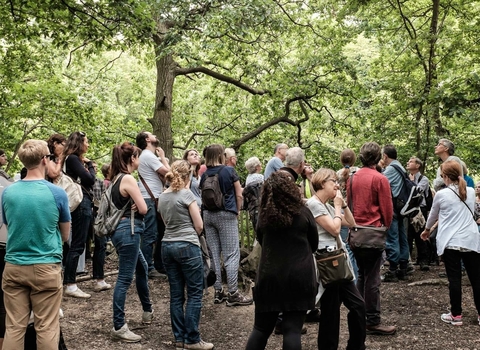 Phase 2
London Wildlife Trust has been successful in securing funding for a new phase of the Great North Wood project from the Government's Green Recovery Challenge Fund. The Government's Green Recovery Challenge Fund was developed by Defra and its Arm's-Length Bodies. It is being delivered by The National Lottery Heritage Fund in partnership with Natural England, the Environment Agency and Forestry Commission.
Find out more
Seasonal spotter sheets
You can expand and download our printable spotter sheets below (right-click to save to your computer). Take them with you on your next visit to the Great North Wood. Why not save them on your phone and view them digitally?
Maybe you'll use them as a school group, with family or even with friends and enjoy discovering the different types of wildlife found in the Great North Wood. 
Project map
Brief history of the Great North Wood
Stretching from Selhurst at its southern limit to Deptford near the Thames in the north, trees such as sessile oak and hornbeam dominated the Wood.
Throughout the Middle Ages, it had a history of strong ownership by local people and was managed for timber (including shipbuilding), charcoal, tannin (for Bermondsey's leather-making industries), as well as firewood.
The Industrial Revolution and the Enclosure Acts from the late 18th century onwards led to the Great North Wood losing its economic validity, and much of it was partitioned and sold off for housing development.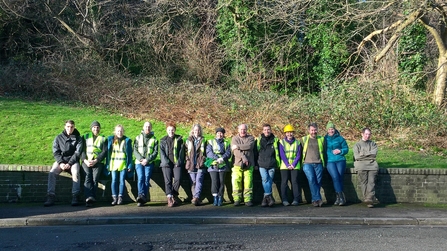 Explore the Great North Wood
Discover London's history and walk in the footsteps of generations gone by with our Great North Wood Go Jauntly walking trails.
There are different routes to choose from to explore the ancient woodlands and get your dose of forest bathing. 
Blogs, News and Events from Great North Wood
Stay in touch
If you are interested in volunteering with the Great North Wood project or would like to find out more you can get in touch with the project team or sign up to our mailing list below: 
Other ways to get involved with London Wildlife Trust